General Recipes
I know, I've been really, really bad about blogging… I'm a much better book author than I am a blog writer. Just a brief note to say that I'll be on NPR's Science Friday this Friday, November 22nd, around 2:30 PM ET / 11:30 AM PT, talking with Ira Flatow about Thanksgiving and how science can help you avoid disaster. Listen in and tweet your questions at us at @scifri ! -Jeff CBS News ran a story titled "GM grass linked to Texas cattle deaths" earlier today.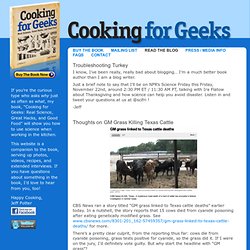 Cooking For Geeks » Read The Blog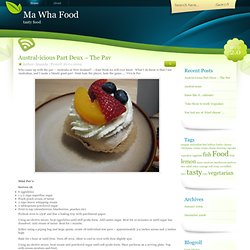 Austral-icious Part Deux – The Pav Who came up with the pav – Australia or New Zealand? – dont think we will ever know. What I do know is that I am Australian, and I make a bloody good pav! Dont hate the player, hate the game…..
Ma Wha Food
Recipes | Mama Knows
No Recipes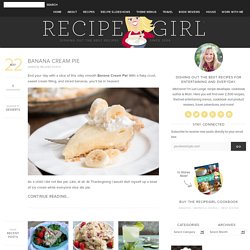 Stuff I've Gotta Share and You've Gotta See Here's another edition of Stuff I've Gotta Share and You've Gotta See! >> Here's what I shared on Parade Magazine's blog this week, and I'm having a really tough time… Read More » Carrot Cake Cheesecake Cake
cookingetcetera
All Recipes
COOKITSIMPLY.COM: Food recipes, cooking guides and information
Recipes | Student Cooking.TV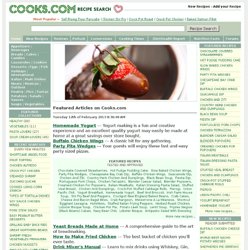 Featured Articles on Cooks.com Saving Money in the Kitchen –– You've heard, over the past years, of "30 Minute Meals" (or less), home cooking with nearly-home made style prepackaged and pre-processed foods ... Casserole Soup Mix –– Use this BPA free, lower sodium and budget friendly recipe to make your favorite casserole healthier and more economical. How to Make an Italian Easter Pie –– This recipe for Pizzagaina has been a treasured favorite in our family for many generations. Tsoureki - Greek Easter Bread –– Tsoureki is a traditional Greek Bread served at the Easter meal flavored with overtones of orange and anise. It's shaped into a twisted wreath or a braid and has red colored hard boiled eggs tucked into pockets formed between the twists.
Recipes to reduce food waste and save time - Love Food Hate Waste
Kids Recipes | Meals, Pizza, Healthy Snacks, Birthday Cakes, Cookies | Nick Jr.