Art Tutorials
PSG Art tutorial
Drawing
As I mentioned in my 2007 article on "The Drawing bench (horse)", I'm fond of the arrangement provided by these usually simple benches that allow for a "sight-over" position when seated and drawing. I say "usually simple", because I got a kick out of comment recently posted to the article on this amazingly deluxe variation, apparently suitable for a Gilded Age drawing room. The manufacturer's site, for the bench, which they call the "Unicorn LE" and describe as "a magical drawing & painting horse". I'm not exactly sure about its specific magical properties, but it has a delightful tagline that reads: "Elegant enough for the living room and sturdy enough for the studio". I suppose you could get matching ones for either side of the couch. I had to chuckle a bit, as this is a far cry from the normal plain arrangement of three or four boards, even when factory bought rather than cobbled together from scrap lumber.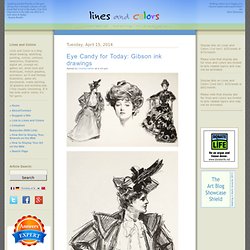 How To: Tailor a Button-Down Shirt for a Perfect Fit » Man Made DIY | Crafts for Men « Keywords: shirt, hack, sewing, tailor
Men's shirts are sized in crazy ways - sometimes its sleeve length and neck dimensions, sometimes they're in chest dimesions (like a suit), and often, just the unpredictable small-medium-large. So, men, too, often have to buy for certain body measurements - length, sleeve, neck sizes, chest girth - and have other aspects not fit. It's why most men's button down shirts are baggy with big sleeves, and that weird muffin-top thing that billows out when we tuck them in. So, next time you find that perfect vintage buttondown at the second hand shop, but it's flows around you like you're swimming in a gingham plaid Superman cape, pay the .99, take it home, and grab your sewing machine. Materials A baggy button down shirt - this works best with shirts that fit around the shoulders and chest, but are too big around the sleeves and sides/lengthMirrorPinsSewing machine and threadScissors
craftgrrl: Cheap screen printing tutorial
Alright, I've finally had the time to "screen print" another shirt, so here's the tutorial... Materials needed: a t-shirt, yucky/cheap paint brushes, an embroidery hoop, screen printing ink (I use Speedball brand), a glue that isn't water-soluble (I use Mod Podge), curtain sheer material/tulle/old nylons, and a computer with a printer (or a good hand for drawing things). Find an image you like and that has good contrast.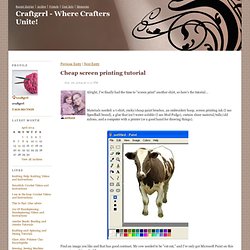 Boy, I didn't know what I was getting myself into when I started this.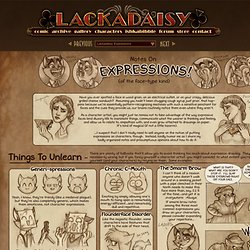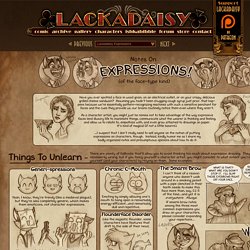 Boy, I didn't know what I was getting myself into when I started this. I've had requests for some sort of expressions tutorial dating back a while now, so I figured, "Sure! I can explain expression drawing...and it'll be way better than all those tutorials out there that are nothing but charts of generic expressions.
THE PROCESS on the Behance Network
Light writing guide on Vimeo - StumbleUpon
Female face sketch - Portraiture - Igor Lukyanov | BetweenCreation