Healthy Eating
Healthy eating. A healthy diet can help reduce your risk of developing coronary heart disease and stop you gaining weight - reducing your risk of diabetes and high blood pressure.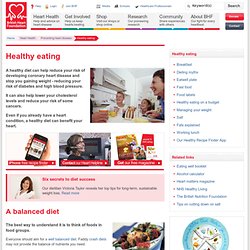 It can also help lower your cholesterol levels and reduce your risk of some cancers. Even if you already have a heart condition, a healthy diet can benefit your heart. Introduction. Healthy Eating. Your body needs energy to work normally and keep you alive.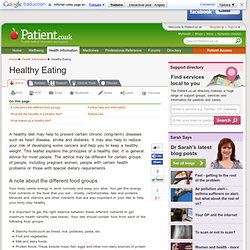 You get this energy from nutrients in the food that you eat - mostly, carbohydrates, fats and proteins. Minerals and vitamins are other nutrients that are also important in your diet to help your body stay healthy. It is important to get the right balance between these different nutrients to get maximum health benefits (see below). Healthy eating on the menu | Warwick Health | Fitness and Medical News in Warwick | Warwick Daily News. ASIDE from his boyish good looks, Jamie Oliver is known for changing the diets of people around the world for the better - and his mobile van could soon be coming to a kitchen near you.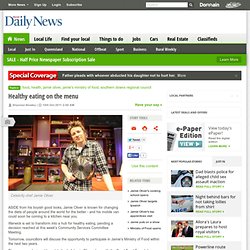 Warwick is set to transform into a hub for healthy eating, pending a decision reached at this week's Community Services Committee Meeting. Tomorrow, councillors will discuss the opportunity to participate in Jamie's Ministry of Food within the next two years. Healthy diet. Leafy green, allium, and cruciferous vegetables are key components of a healthy diet.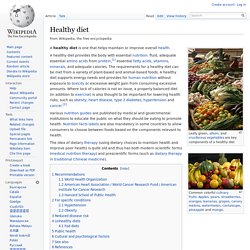 A healthy diet is one that helps maintain or improve general health. A healthy diet provides the body with essential nutrition: fluid, adequate essential amino acids from protein,[1] essential fatty acids, vitamins, minerals, and adequate calories. The requirements for a healthy diet can be met from a variety of plant-based and animal-based foods. Easy Tips for Planning a Healthy Diet & Sticking to It.
Healthy eating tip 1: Set yourself up for success To set yourself up for success, think about planning a healthy diet as a number of small, manageable steps rather than one big drastic change.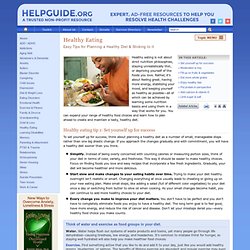 If you approach the changes gradually and with commitment, you will have a healthy diet sooner than you think. Simplify. Instead of being overly concerned with counting calories or measuring portion sizes, think of your diet in terms of color, variety, and freshness. Healthy eating - information from Bupa on healthy eating. The amount and type of food you eat has a major influence on your health.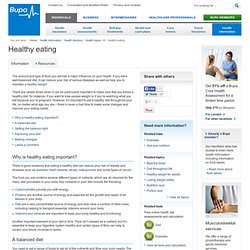 If you eat a well-balanced diet, it can reduce your risk of various diseases as well as help you to maintain a healthy weight. There are certain times when it can be particularly important to make sure that you follow a healthy diet, for instance, if you want to lose excess weight or if you're watching what you eat because you're pregnant. Healthy eating - Live Well.
---