Frameworks
iText ® - Free / Open Source PDF Library for Java and C#
Our CEO is preparing a talk for the educational day at the PDF Days, entitled "7 cases for the PDF support detectives." The idea is to select 7 mysterious PDF problems he encountered in the last 15 years. We would like to hear your stories. Do you think the "blank page problem" deserves a place in the top 7? Did you ever encounter a form that couldn't be filled out? Did you ever add a Watermark that didn't show up on any page of the document?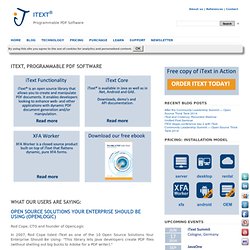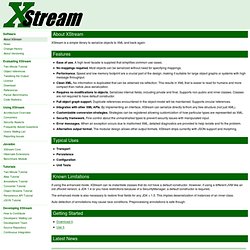 XStream is a simple library to serialize objects to XML and back again. Ease of use. A high level facade is supplied that simplifies common use cases. No mappings required.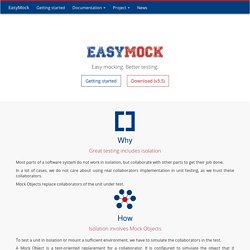 EasyMock : Home
Overview EasyMock provides Mock Objects for interfaces (and objects through the class extension) by generating them on the fly using Java's proxy mechanism. Due to EasyMock's unique style of recording expectations, most refactorings will not affect the Mock Objects.
jMock - An Expressive Mock Object Library for Java
Java Learning & Certification Community, free Java JavaEE scjp spring hibernate jpa mock courses and exams