Oracle
Performance and Scalabilty
(See also: Oracle Database 11g: The Top New Features for DBAs and Developers) An insight into Oracle Flex ASM and its Benefits for Oracle Database 12c [March 2014] by Deiby Gómez (Oracle ACE), YV Ravikumar (Oracle OCM) & Nassyam Basha (OCP) How "Flex ASM" and "Flex Cluster" support demanding requirements of Cloud Computing-oriented environments. Automatic Data Optimization [November 2013] by Arup Nanda Learn how to enable information lifecycle management to automatically move data to lower-cost storage tiers and compress it. Many in One [September 2013] by Arup Nanda Create many databases in one database instance with the Oracle Database 12c multitenant architecture. Beginning Performance Tuning: Diagnose the Past [November 2012] by Arup Nanda Take the next step in diagnosing Oracle Database performance issues.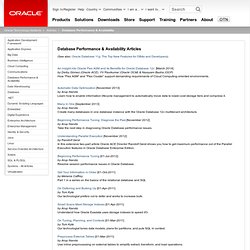 Performance & Availability Technet
<head> <title>Oracle Bind Variables | SCN</title> <meta property="og:type" content="website"/><meta property="og:url" content="http://scn.sap.com/docs/DOC-15761"/> <script type="text/javascript"> if (top != self) { var isSafeTopUrl = false; try { var topUrl = top.location.href; var topUrlQsIdx = topUrl.indexOf('?'); if (topUrlQsIdx > 0) { topUrl = topUrl.substring(0, topUrlQsIdx); } topUrl = topUrl.toLowerCase();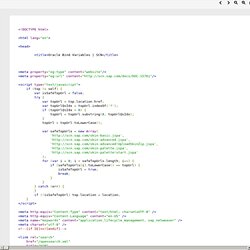 Oracle Bind Variables (pdf)
Oracle Oracle Oracle Technology Network Indexes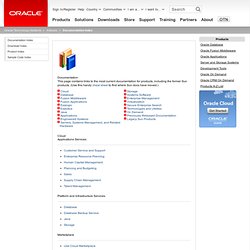 Orapub.com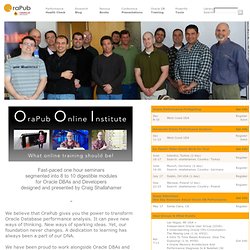 The OraPub Online Institute provides fast-paced seminars for Oracle DBAs and Developers designed and presented by Craig Shallahamer We believe that OraPub gives you the power to transform Oracle Database performance analysis. It can pave new ways of thinking.
Detailing an Oracle Database process's CPU consumption is amazing, a lot of fun, and can lead to some "ah ha" moments. To make this posting daily digestible, I'm breaking it up into a multi-part series. Today I'm posting the third and final part entitled, Creating A Tool. Here we go… I Want Something Like This At this point, we are ready to take the Linux perf tool output and merge that with Oracle wait event data.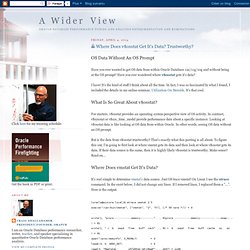 Orapub Blog