Oracle
Performance and Scalabilty. Performance & Availability Technet. (See also: Oracle Database 11g: The Top New Features for DBAs and Developers) An insight into Oracle Flex ASM and its Benefits for Oracle Database 12c [March 2014] by Deiby Gómez (Oracle ACE), YV Ravikumar (Oracle OCM) & Nassyam Basha (OCP) How "Flex ASM" and "Flex Cluster" support demanding requirements of Cloud Computing-oriented environments.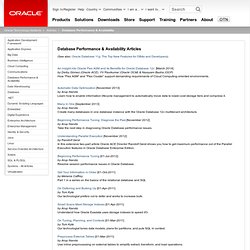 Automatic Data Optimization [November 2013] by Arup Nanda Learn how to enable information lifecycle management to automatically move data to lower-cost storage tiers and compress it. Many in One [September 2013] by Arup Nanda Create many databases in one database instance with the Oracle Database 12c multitenant architecture. Beginning Performance Tuning: Diagnose the Past [November 2012] by Arup Nanda Take the next step in diagnosing Oracle Database performance issues. Oracle Bind Variables (pdf) Documentation Index. Oracle Oracle Oracle Technology Network Indexes.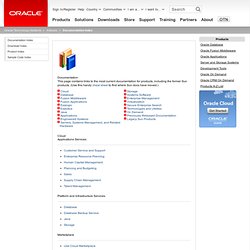 Orapub.com. Orapub Blog.
---