Search engines
Phil Bradley: People search engines, people related search,
People related search engines This is a large section and is just getting bigger. There are search engines that find people, that are moderated by people, that search social media, weblogs and forums.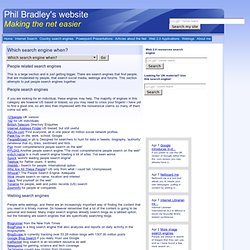 Google Guide Quick Reference: Google Advanced Operators (Cheat Sheet)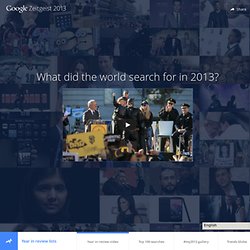 zeit·geist | Pronunciation: 'tsIt-"gIst, 'zIt | Function: noun | Etymology: German, from Zeit (time) + Geist (spirit) | Date: 1884 | Meaning: the general intellectual, moral, and cultural climate of an era. "Zeitgeist" means "the spirit of the times," and this spirit can be seen through the aggregation of millions of search queries Google receives every day. The annual Zeitgeist report reveals what captured the world's attention in the past year—our passions, interests and defining moments as seen through search. Explore the most recent Year-End Zeitgeist, or take a trip back in time by looking through the archives. See what the world searched for in 2012 .
Professor Garfield Intro
Any Questions? Many Answers
Lazy Researcher | Neil's Toolbox