Search engines
Startpage offers you Web search results from Google in complete privacy! When you search with Startpage, we remove all identifying information from your query and submit it anonymously to Google ourselves. We get the results and return them to you in total privacy. Phil Bradley: People search engines, people related search,
People related search engines This is a large section and is just getting bigger. There are search engines that find people, that are moderated by people, that search social media, weblogs and forums.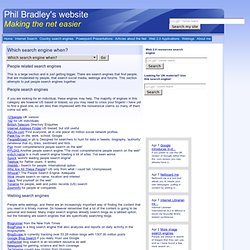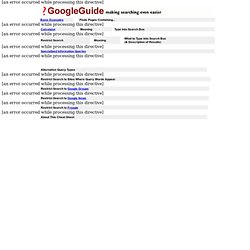 [an error occurred while processing this directive] [an error occurred while processing this directive] [an error occurred while processing this directive] [an error occurred while processing this directive] [an error occurred while processing this directive] [an error occurred while processing this directive] [an error occurred while processing this directive] [an error occurred while processing this directive] [an error occurred while processing this directive] [an error occurred while processing this directive]
Professor Garfield Intro
Any Questions? Many Answers
Lazy Researcher | Neil's Toolbox