Safety
A few starting points for keeping your pupils safe and helping them to keep themselves safe. Dec 15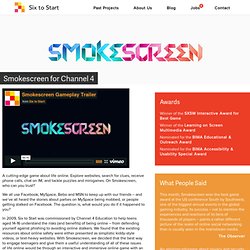 A cutting-edge game about life online. Explore websites, search for clues, receive phone calls, chat on IM, and tackle puzzles and minigames. On Smokescreen, who can you trust? We all use Facebook, MySpace, Bebo and MSN to keep up with our friends – and we've all heard the stories about parties on MySpace being mobbed, or people getting stalked on Facebook.
Smokescreen | Six to Start
Cyberbullying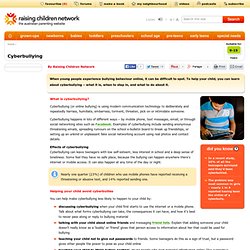 What is cyberbullying? Cyberbullying (or online bullying) is using modern communication technology to deliberately and repeatedly harrass, humiliate, embarrass, torment, threaten, pick on or intimidate someone. Effects of cyberbullyingCyberbullying can leave teenagers with low self-esteem, less interest in school and a deep sense of loneliness. Some feel they have no safe place, because the bullying can happen anywhere there's internet or mobile access.
Videos
Facebook, Google Support Program To Help Kids Connect Safely
The Family Online Safety Institute has announced A Platform for Good. The program is designed to help kids, teenagers, parents, and teachers connect and share safely on the internet. The program has been endorsed by some of the biggest names in the tech, social media, telecommunications, and search. Partner organizations include Facebook, Google, Microsoft, Yahoo!, AT&T, Sprint, and Verizon.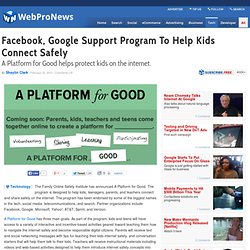 The safe use of new technologies
ukccis%20advice%20on%20child%20internet%20safety
SocialShield | Internet Safety and Parental Control Software for Social Networking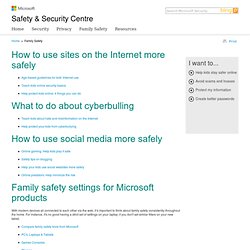 Family Safety | Microsoft Safety & Security Centre
Home > Security > Free Microsoft products help protect your computer from malware Home > Security > Security products and services: Frequently asked questions Home > Security > Upgrade to Internet Explorer 8 to help protect your computer Home > Security > Help protect your PC with Microsoft Security Essentials
Password Security Tester | Neil's Toolbox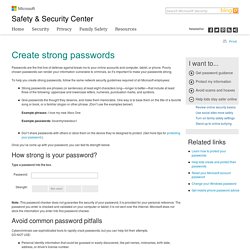 Home > Security > Microsoft products help protect your computer from malware Home > Security > Security products and services: Frequently asked questions Home > Security > Upgrade to Internet Explorer 8 to help protect your computer Home > Security > Spyware protection with Microsoft Security Essentials Home > Security > Windows 8: Explore new and improved security features Home > Security > Protect yourself when you use ActiveX controls