Google Search
Google Docs for Teachers. 52 Great Google Docs Secrets for Students. Google Docs is such an incredible tool for college students, offering collaboration, portability, ease of use, and widespread acceptance – a must for students in online colleges for online marketing, for instance.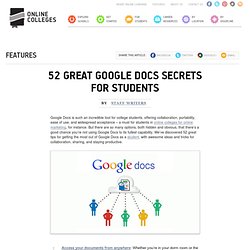 But there are so many options, both hidden and obvious, that there's a good chance you're not using Google Docs to its fullest capability. We've discovered 52 great tips for getting the most out of Google Docs as a student, with awesome ideas and tricks for collaboration, sharing, and staying productive. Access your documents from anywhere: Whether you're in your dorm room or the school library, you can access your Google Docs.
Google Books. For Educators - Web Search. Denis Labelle - Google+ - New Google+ Users -> Google+ Video Tutorials A Complete… Stop What You're Doing, And Go See What Google Thinks It Knows About You. The g+ resource - Google+ - Welcome New Followers! Here Are All My Google+ Guides in… The Ultimate Google+ SEO Guide. This comprehensive Google+ SEO guide covers every aspect and angle of Google+ and how it impacts search.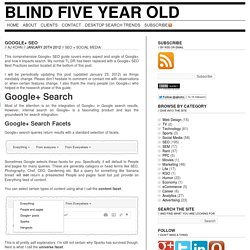 My normal TL;DR has been replaced with a Google+ SEO Best Practices section located at the bottom of this post. I will be periodically updating this post (updated January 23, 2012) as things inevitably change. Please don't hesitate to comment or contact me with observations or when certain features change.
I also thank the many people (on Google+) who helped in the research phase of this guide. Search Commands. 1.
What is Search Commands? 2. What versions of Office will Search Commands work on? Guides to the Ribbon: Use Office 2003 menus to learn the Office 2007 user interface - Training. Wondering where your favorite Office 2003 commands are located in the new 2007 Office system interface?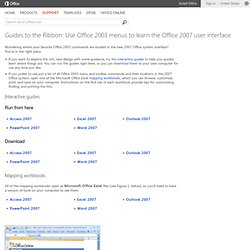 You're in the right place. If you want to explore the rich, new design with some guidance, try the interactive guides to help you quickly learn where things are. Get Yourself Featured in New Google Search Plus Your World Personalized Search. The web has changed the world in so many ways, but few are more awesome than the fact that now anyone can be a "published" author.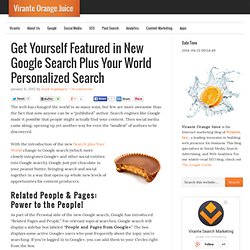 Search engines like Google made it possible that people might actually find your content. Then social media came along, opening up yet another way for even the "smallest" of authors to be discovered. With the introduction of the new Search plus Your World change to Google search (which more closely integrates Google+ and other social entities into Google search), Google just put chocolate in your peanut butter, bringing search and social together in a way that opens up whole new levels of opportunities for content producers. Related People & Pages: Power to the People! Advanced Search, Visualization, and Query Strategy. Search basics. WebSearchEducation. How to use Google Scholar.
---