Social Media
The following is an excerpt from Chapter 6 of the recently released book Social Media for Social Good: A How-To Guide for Nonprofits . These basic LinkedIn Profile tips for nonprofit professionals serve as a foundation for when and if your nonprofit is ready to utilize LinkedIn Groups and Company Pages. That said, I do not cover personal LinkedIn Profiles in my upcoming webinar How Nonprofits Can Successfully Use Twitter and LinkedIn , but LinkedIn Groups and Company Pages are covered in detail in both the webinar and in the book. Finally, it's important to understand that the line between personal and professional is blurry on LinkedIn, so much so that it's completely respectable to use LinkedIn for personal reasons during office hours.
11 LinkedIn Profile Tips for Nonprofit Professionals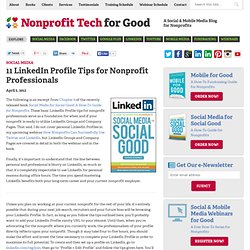 5 Social Media Profiles Every Arts Organization Needs
When Google+ launched, it was widely projected as the next big Facebook Killer. While that didn't happen, Google did a remarkable job of exploiting Facebook's weaknesses with innovative features such as Circles and Hangouts. The world's leading social network eventually hit back in style and as time passed, the initial euphoria over Google+ begin to fade away. All this while, I maintained that the true litmus test for Google+ would be in the business segment when it takes on the world's leading social network head-to-head.
Tips on Using Google+ for Business [Infographic] Don't Start Using Social Media - The Face of the Matter
I love what I do. And I love to talk about it. Well, as you're reading this, that's pretty easy to see. I mean, why else would I spend hours per day curating my Twitter feed, managing more than 100 RSS feeds, researching topics for blog posts, writing blog posts. (And admittedly, the tech has made it easier. I no longer write blog posts out long-hand on the bus and transcribe it late at night once my family had gone to bed.)
With all the talk of Pinterest acting as one giant copyright infringement hub, the up-and-already-arrived social network has given sites a way to opt out of pinning. Though a Wall Street Journal article last week described that copyright infringements "haven't been a significant issue so far," Pinterest has taken the safe route, providing some code for websites that would rather their content not show up on the social network. This adds a technical aspect to the company's theft policy, which encourages citing original sources: Pins are the most useful when they have links back to the original source. If you notice that a pin is not sourced correctly, leave a comment so the original pinner can update the source. Finding the original source is always preferable to a secondary source such as Google Image Search or a blog entry.
Pinterest Gets More Copyright Friendly
Yesterday, I had a lot of fun giving another webinar for Nonprofit Webinars, this time focused on DIY Social Media Management . There are so many tools out there and so many different options pulling us in so many directions that I've found many organizations, especially very small organizers, can feel like they are getting tied up in knots. The goal of this webinar was to provide some baseline tools to help manage the incoming and the outgoing content across all channels an organization may be using to communicate and connect.
DIY Social Media Management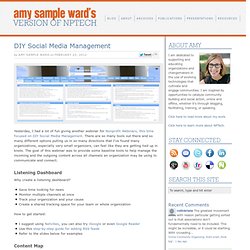 Social Media for Nonprofits | Fundraising, Management, Marketing