Cooking
The Viceroy - Buntingford - SG9 | Indian Takeaway | Online Menu. Baking. Mince recipes. Goodtoknow Recipes Your search results Showing 1-12 of 120 results Next 'This is the proper way to make shepherd's pie,' according to this timeless 1937 Woman's Weekly recipe.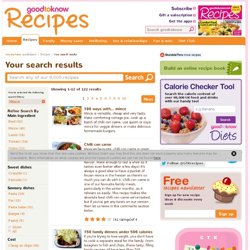 Seafood Recipes. Jamie Oliver. BBC. Cookitsimply. World Recipes: Categorized by Country. Persian. Chinese. Indian. Spanish. In the Mediterranean diet it is typical to begin the food with succulent starters to open up the appetite.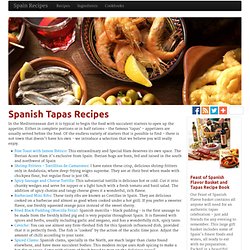 Either in complete portions or in half rations - the famous 'tapas' – appetizers are usually served before the food. Of the endless variety of starters that is possible to find - there is not town that doesn't have his own - we introduce a selection that we believe you will really enjoy. Foie Toast with Jamon Ibérico: This extraordinary and Special Ham deserves its own space. French. Mastering the art of French cooking takes little more than a minimally stocked kitchen, a bit of time, and a few easy French recipes.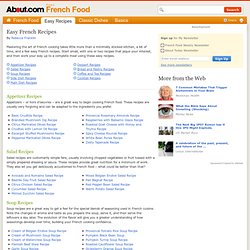 Start small, with one or two recipes that pique your interest, and then work your way up to a complete meal using these easy recipes. Appetizer Recipes Appetizers – or hors d'oeuvres – are a great way to begin cooking French food. These recipes are usually very forgiving and can be adapted to the ingredients you prefer. Salad Recipes. Thai.
Welcome to our Thai recipes section.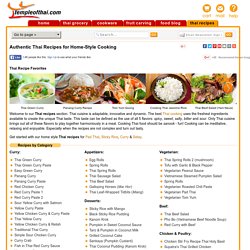 Thai cuisine is adaptable, innovative and dynamic. The best Thai cooking uses the freshest ingredients available to create the unique Thai taste. This taste can be defined as the use of all 5 flavors: spicy, sweet, salty, bitter and sour. Only Thai cuisine brings out all of these flavors to play together harmoniously in a meal. Moroccan. Italian. Science of Cooking: Food Science, Recipes & Projects.
---