RPG
Topless Robot - Ever Wonder What a Gelatinous Cube Sounds Like?
The Mother Of All Character Questionnaires Use this list of questions to construct or add to your own characrer questionnaire. The questions cover different genres and types of details, so feel free to exclude or modify to suit your group. Questions are divided into broad categories.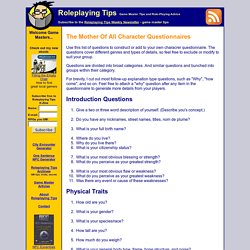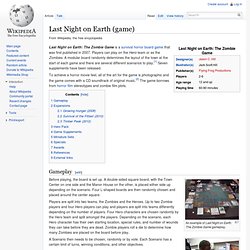 Last Night on Earth: The Zombie Game
Last Night on Earth: The Zombie Game is a survival horror board game that was first published in 2007. Players can play on the Hero team or as the Zombies. A modular board randomly determines the layout of the town at the start of each game and there are several different scenarios to play.[1] Seven supplements have been released. To achieve a horror movie feel, all of the art for the game is photographic and the game comes with a CD soundtrack of original music.[2] The game borrows from horror film stereotypes and zombie film plots.
Fantasy Grounds is an application acting as a virtual online gaming table primarily intended for pen and paper style narrative role playing games. Fantasy Grounds is designed to perform many of the things you can do while playing at a conventional gaming table and move it online. Run games as the gamemaster or take part as a player, the application provides all the necessary tools to communicate, manage information and perform tasks such as rolling the dice or creating drawings.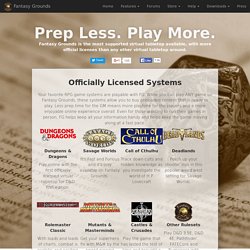 Dec 13, 2006 (Updated Dec 20, 2006) Popular Products in Books From $2 From $5 The Bottom Line The ideas for this game are infinite. Enjoy.
Fifty More Adventure Ideas (for Dungeons and Dragons&) - Writers Corner:...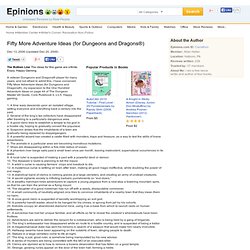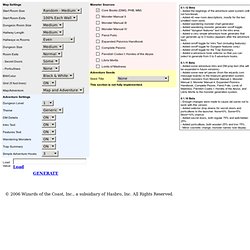 0.1.12 Beta- Added the beginings of the adventure seed system (still not functional).- Added 40 new room descriptions, mostly for the two smallest room sizes.- Added wandering monster chart generator.- Added wandering monster generator on/off toggle.- Added "dungeon features" text to the intro area.- Added a very simple adventure hook generator that can generate up to 5 hooks (appears after the adventure text).- Added on/off toggle for Intro Text (including features)- Added on/off toggle for Dungeon features (only)- Added on/off toggle for the Trap Summary.- Added a adventure hook selector so that you can select to generate from 0 to 5 adventure hooks.
The Uncertain Areas: Shadowrun Characterization Generator
If you're enjoying the content here, check out our new site, Thoughtcrime Games. Thanks for visiting! If you're new here, you may want to subscribe to my RSS feed. Thanks for visiting!
5 NPCs That Won't Put Your Players to Sleep | Dungeon Mastering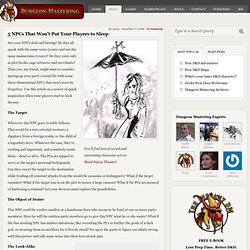 Are your NPCs drab and boring? Do they all speak with the same voice (yours) and use the same mannerisms (yours)? Do they exist only as plot hooks, sage advisors, and merchants? Then you, my friend, might want to consider spicing up your party's social life with some three-dimensional NPCs that won't soon be forgotten. Use this article as a source of quick inspiration when your players start to look drowsy. The Target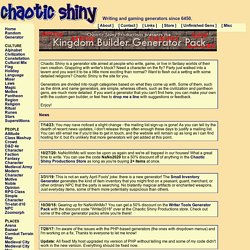 Chaotic Shiny is a generator site aimed at people who write, game, or live in fantasy worlds of their own creation. Grappling with writer's block? Need a character on the fly?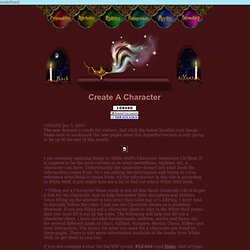 CREATE A CHARACTER
Create A Character UPDATE Jan 5, 2005The new domain is ready for visitors. Just click the below bysable.com image. Make sure to bookmark the new pages since this Angelfire version is only going to be up til the end of this month.