Maps
Atlas of Prejudice 2 [English Edition] Get your copy on: Amazon US / Amazon UK / Amazon DE / Amazon FR / Amazon IT / Amazon ES Atlas der Vorurteile 2 [German Edition]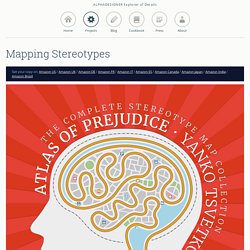 Maps
STANZA||Welcome to the main Stanza site. Stanza is a London base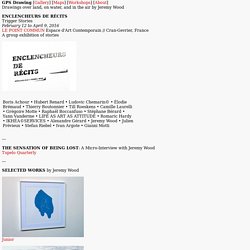 GPS Drawing [Gallery] [Maps] [Workshops] [About]Drawings over land, on water, and in the air made by Jeremy Wood JUNIOR A performance about Scale 1:1 and the fold of the map Junior, GPS drawing on a lake WALK ON 40 years of Art Walking 1st June – 31st August 2013 Northern Gallery for Contemporary Art (NGCA), Fawcett Street, Sunderland, SR1 1RE, UK Steeped in the tradition of landscape art, walking has been at the heart of many art practices and performances for decades now.
GPS Drawing
En los últimos años, el gran despliegue de las tecnologías inalámbricas y de telefonía móvil han proporcionado maneras nuevas de entender la dinámica de una ciudad que brindan nuevas perspectivas para los planificadores de urbanismo, los ingenieros de tráfico, las autoridades de turismo más allá de los métodos tradicionales de recolección de datos como el recuento de tráfico en cruces viarios o las encuestas personales o telefónicas. A lo largo de nuestras actividades diarias vamos dejando huellas de nuestra interacción con el entorno urbano y sus infraestructuras digitales (por ejemplo, tomando y compartiendo fotos digitales, comunicándonos mediante redes inalámbricas o sacando dinero de los cajeros). Estas huellas se añaden a otras señales que la gente deja en entornos urbanos, como pegatinas, basura, pisadas o graffiti.
Visualizando el Pulso de la Ciudad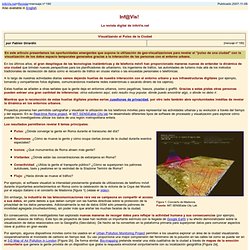 and | mark shepard
AND is of course diversity, multiplicity, the destruction of identities. It's not the same factory gate when I go in, and when I come out, and then when I go past unemployed. A convicted man's wife isn't the same before and after the conviction. But diversity and multiplicity have nothing to do with aesthetic wholes (in the sense of 'one more,' 'one more woman'. . . ) or dialectical schemas (in the sense of 'one produces two, which then produces three').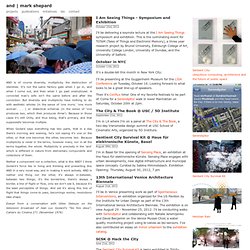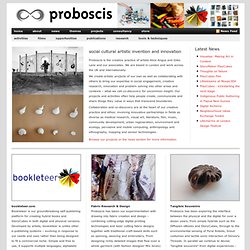 Proboscis
Proboscis is the creative practice of artists Alice Angus and Giles Lane and our associates. We are based in London and work across the UK and internationally. We create artistic projects of our own as well as collaborating with others to bring our expertise in social engagement, creative research, innovation and problem solving into other areas and contexts – what we call co-discovery for uncommon insight. Our projects and activities often help people create, communicate and share things they value in ways that transcend boundaries. Collaboration and co-discovery are at the heart of our creative practice and ethos: involving innovative partnerships in fields as diverse as medical research, visual art, literature, film, music, community development, urban regeneration, environment and ecology, pervasive and mobile computing, anthropology and ethnography, mapping and sensor technologies.
PrimatePoetics!
by Christian Nold 2004 - ongoing Bio Mapping is revolutionary methodology and tool for visualising people's reactions to the external world. Over the last five years, over 2000 people have taken part in community mapping projects in over 25 cities across the globe. In structured workshops, participants re-explore their local area with the use of a unique device invented by Christian Nold which records the wearer's Galvanic Skin Response (GSR), which is a simple indicator of emotional arousal in conjunction with their geographical location. On their return, a map is created which visualises points of high and low arousal.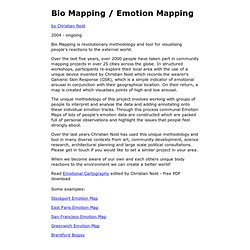 Generalitat: Bienvenida
Proyecto Localizarq