Writing by Shannon Clark
Bub.blicio.us — Covering the social economy driving the new Web. How to get Great Speakers. Guest post by Shannon Clark: Follow him on Twitter | Read his blog The secret to getting great speakers for your next conference is very simple – Ask.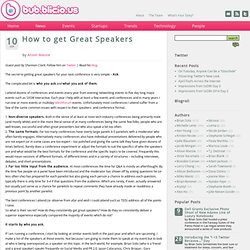 The complicated bit is who you ask and what you ask of them. VentureBeat | News About Tech, Money and Innovation. Incorporating social media: There's no magic bullet | VentureBea. Connect with leaders from the companies in this story, in real life: Come to the fourth annual VentureBeat Mobile Summit April 14-15 in Sausalito, Calif.
Request an invitation. Searching for help in determining how to incorporate social media into your business can be a frustrating process. Startup 101: Naming your startup. [Editor's note: This is the first in a series of practical advice for entrepreneurs -- things you're probably aware of but are likely to forget in the rush of launching a business.]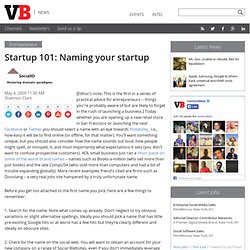 Today whether you are opening up a new retail store in San Francisco or launching the next Facebook or Twitter you should select a name with an eye towards findability , i.e., how easy it will be to find online (or offline, for that matter). You'll want something unique, but you should also consider how the name sounds out loud, how people might spell, or misspell, it, and most importantly what expectations it sets (you don't want to confuse prospective customers). AOL small business just ran a short piece on some of the worst brand names – names such as Books-a-million (who sell more than just books) and the late CompUSA (who sold more than computers and had a bit of trouble expanding globally).
Starting Up 101 – Harnessing the power of analytics | VentureBea. [Editor's note: This is the third in a series of practical advice for entrepreneurs -- things you're probably aware of but are likely to forget in the rush of launching a business.]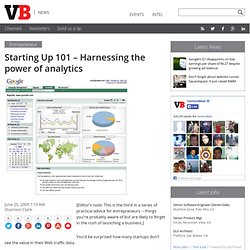 You'd be surprised how many startups don't see the value in their Web traffic data. All too often when I meet with a startup, the only statistics the owner has on hand is a basic set of website logs from their web hosting company - logs which they rarely have analyzed or looked at in depth. Further, they often have few processes (if any) set up to track activity across the web. That's a critical mistake. Analytics are a window into the demographics and habits of both your customers and potential customers. Starting up 101: Choosing your core collaboration tools | Ventur. [Editor's note: This is the second in a series of practical advice for entrepreneurs -- things you're probably aware of but are likely to forget in the rush of launching a business.]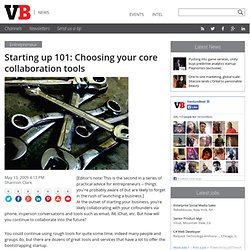 At the outset of starting your business, you're likely collaborating with your cofounders via phone, in-person conversations and tools such as email, IM, iChat, etc. But how will you continue to collaborate into the future? You could continue using rough tools for quite some time, indeed many people and groups do, but there are dozens of great tools and services that have a lot to offer the bootstrapping startup. Shannon Clark. How startups lose at Buzzword Bingo. I had the pleasure (and occasionally the pain) earlier this week of watching more than 50 companies demonstrate new products and answer questions from a panel of judges at the TechCrunch 50 conference in San Francisco.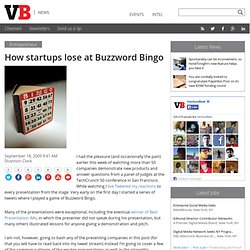 While watching I live Tweeted my reactions to every presentation from the stage. Very early on the first day I started a series of tweets where I played a game of Buzzword Bingo. Many of the presentations were exceptional, including the eventual winner of Best Presentation iMo, in which the presenter did not speak during his presentation, but many others illustrated lessons for anyone giving a demonstration and pitch.
Searching for the Moon. Slow Brand. Slow Brand » Coffee in San Francisco – my current favorites. San Francisco Coffee is among the best in the world.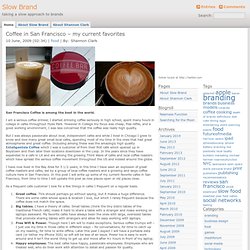 I am a serious coffee drinker, I started drinking coffee seriously in high school, spent many hours in college in cafes throughout Hyde Park. However in College my focus was cheap, free refills, and a good working environment, I was less concerned that the coffee was really high quality. But I was always passionate about local, independent cafes and while I lived in Chicago I grew to know and love many great small local cafes, spending most of my time in the ones that had great atmospheres and great coffee. Slow Brand » Creating on the iPad or a few million dollar ideas. A few days ago here in San Francisco Apple announced the iPad.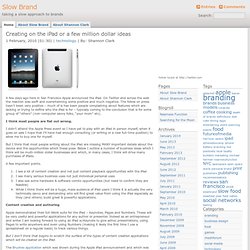 On Twitter and across the web the reaction was swift and overwhelming some positive and much negative. The follow on press hasn't been very positive – much of is has been people complaining about features which are lacking or trying to define who the iPad is for – typically coming to the conclusion that is for some group of "others" (non-computer savvy folks, "your mom" etc). MeshForum. JigZaw Inc home page. Firewall Videos"
---