TieCon 2010
TiEcon 2010 TiE 50
TiEcon Exhibitors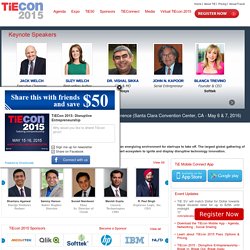 TiEcon 2013 is guaranteed to mesmerize with the hottest topics delivered by brilliant experts. In addition to compelling content in the Entrepreneurs Track on Saturday, TiEcon 2013 will devote Friday entirely to three high-growth tracks - Mobility, Big Data and Software Defined Infrastructure (SDI). Attendees can expect the usual high-impact networking opportunities in the Expo Hall and during lunch and cocktail receptions - that have launched many a successful startup or a blazing career opportunity.
TiEcon 2010 - the world's largest conference for entrepreneurs.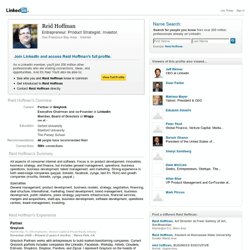 All aspects of consumer internet and software. Focus is on product development, innovation, business strategy, and finance, but includes general management, operations, business operations, business development, talent management, and marketing. Strong experience in both seed-stage companies (paypal, linkedin, facebook, zynga, last.fm, flickr) and growth companies (mozilla, linkedin, zynga, paypal.) Specialties General management, product development, business models, strategy, negotiation, financing, deal structure, international, marketing, brand development, brand management, business development, public relations, press strategy, payments infrastructure, financial services, mergers and acquisitions, start-ups, business development, software development, operations centers, board management, investing.
Reid Hoffman - LinkedIn
Reid Hoffman (quixotic) on Twitter
Search - tiecon