Psychology
Lucid Dreaming/Induction Techniques. This page describes a number of lucid dream induction techniques.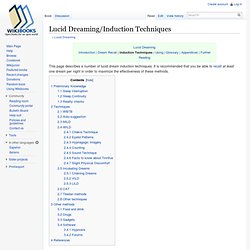 It is recommended that you be able to recall at least one dream per night in order to maximize the effectiveness of these methods. Preliminary Knowledge[edit] Certain elements are common to many of the lucidity-inducing techniques discussed later in this chapter. To better understand these techniques, these common components will be discussed first.
What Everyone Should Know About Their Own Minds. Classic psychology studies show just how little access we have to the workings of our own minds.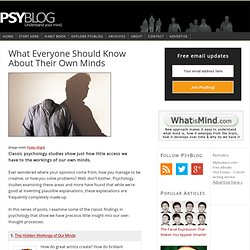 Ever wondered where your opinions come from, how you manage to be creative, or how you solve problems? Well, don't bother. Psychology studies examining these areas and more have found that while we're good at inventing plausible explanations, these explanations are frequently completely made-up. Psychology | Documentary Heaven | Watch Free Documentaries Online - StumbleUpon. In Holding the Sun we get to look into a Canadian family's struggle to save their son from schizophrenia and cope with the consequences of the condition.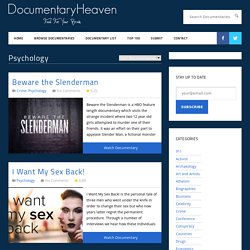 The Millar family was torn apart when on May 30th, 1997, Ruth Millar's son Aaron came calmly up behind her and stuck a sword through her heart. Earlier that morning Ruth wrote to her husband about Aaron's schizophrenia. She said he was looking quite psychotic these days, not in a harmful way but simply because he lives in his own world. Architects of Control, Program One – Mass Control & The Future of Mankind | Watch Free Documentary Online.
"The real war is the war on consciousness.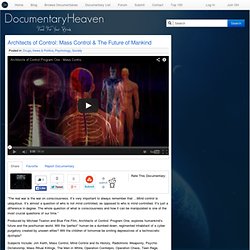 It's very important to always remember that …Mind control is ubiquitous. It's almost a question of who is not mind controlled, as opposed to who is mind controlled. It's just a difference in degree. The whole question of what is consciousness and how it can be manipulated is one of the most crucial questions of our time." Face Memory Game - 2. 47 Mind-Blowing Psychology-Proven Facts You Should Know About Yourself - StumbleUpon.
WHAT YOU ARE ABOUT TO READ IN THE NEXT PARAGRAPH IS COMMONLY BELIEVED, BUT NOT TRUE – You read by recognizing the shapes of words and groups of words.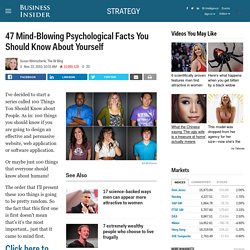 Words that are in all capital letters all have the same shape: a rectangle of a certain size. This makes words displayed in all uppercase harder to read than upper and lower case (known as "mixed case"). Mixed case words are easier to read because they make unique shapes, as demonstrated by the picture below. Psychology studies relevant to everyday life from PsyBlog.
---