SocialMedia
Klout Unveils Brand Pages. Klout unleashed Brand Squads, its version of brand pages, into beta on Tuesday with Red Bull as its sole launch partner.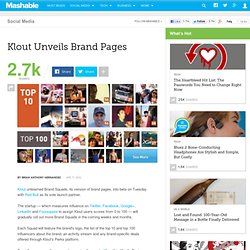 The startup — which measures influence on Twitter, Facebook, Google+, LinkedIn and Foursquare to assign Klout users scores from 0 to 100 — will gradually roll out more Brand Squads in the coming weeks and months. Each Squad will feature the brand's logo, the list of the top 10 and top 100 influencers about the brand, an activity stream and any brand-specific deals offered through Klout's Perks platform. Top influencers are the users who receive the most +K's within Klout's Topics feature (see gallery below). The State of the News Media 2011. Everything to Teach Your Employees About Social Media. Who needs an expensive social media consultant when you can train your employees in Twitter, Facebook and LinkedIn best practices yourself?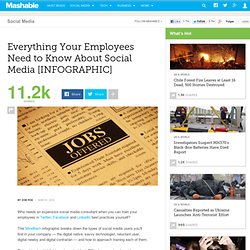 This Mindflash infographic breaks down the types of social media users you'll find in your company — the digital native, savvy technologist, reluctant user, digital newby and digital contrarian — and how to approach training each of them. This guide also highlights an important fact: 76% of companies do not have a clearly defined social media policy. Whether or not you have an explicit policy, make sure you're aware of the way everyone in your company represents your brand. Zuckerberg 'Likes' App That Turns Facebook Into Pinterest. An app that takes the photos from your Facebook News Feed and puts them in a layout strikingly similar to Pinterest got the seal of approval from Mark Zuckerberg on Tuesday.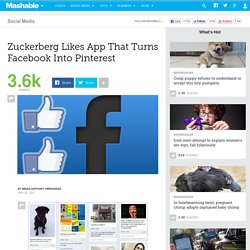 The Facebook CEO pushed the "Like" button on the Friendsheet Facebook app, which launched in January but is now likely to gain plenty of traction from Zuckerberg's thumbs-up. Nearly 12 million Facebook accounts subscribe to his Facebook Timeline. The app displays public Facebook photos in small panels, just like popular social bookmarking site Pinterest showcases images on Pinboards. Pinpuff - Pinterest Influence and Popularity Score and Pin Worth.
Cory Booker - Mayor of Newark New Jersey. 10 Tips For Taking A Vacation From Social Media. I'm making the official call.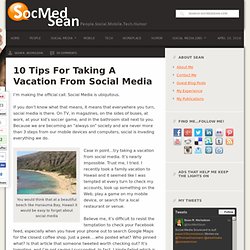 Social Media is ubiquitous. If you don't know what that means, it means that everywhere you turn, social media is there. ConnecTV social companion beta launches for iPad, PC and Mac (hands-on) ConnecTV Launches Most Comprehensive Social TV Service into Open Public Beta Social Platform to Offer Companion Content for More Than 250 National Channels; Soon Rolling Out Exclusive Content to More Than 200 Local Affiliates and 26 Regional Sports Networks Custom Content for Sunday's BIG GAME Showcases Live Play by Play Stats, Deep Social Integration, MVP and Best Ad Voting and More!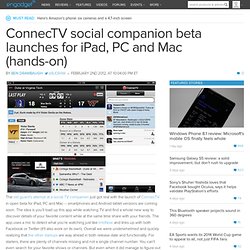 EMERYVILLE, Calif. --(BUSINESS WIRE)--ConnecTV, the most comprehensive social platform for all TV fans, opens its doors to the public today so viewers can share every "Did you see that! " television moment from the world of sports, news, drama and reality programming - live or time-shifted - in a unique companion viewing experience. Social Media Workshop. Welcome to YouTube!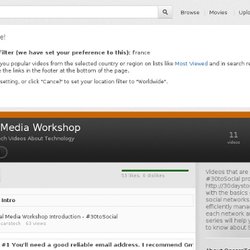 The location filter shows you popular videos from the selected country or region on lists like Most Viewed and in search results.To change your location filter, please use the links in the footer at the bottom of the page. Click "OK" to accept this setting, or click "Cancel" to set your location filter to "Worldwide". The location filter shows you popular videos from the selected country or region on lists like Most Viewed and in search results. To change your country filter, please use the links in the footer at the bottom of the page. Videos that are part of the #30toSocial program from - Starting with the basics of getting on the social networks, to becoming a pro at efficiently managing and leveraging each network and available tool, this series will help you learn all you need to know about Social Networking.
Mike Bowler Sr Twitter | Mike Bowler Sr Trending. Klout CEO Joe Fernandez Responds to Critics. A week ago I wrote a post here called "Delete Your Klout Profile Now!"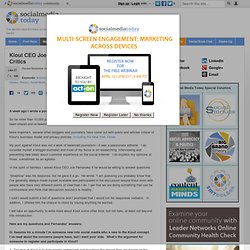 So far more than 10,000 people have read it here and another 2,000 on my blog Take5Interactive. It's been shared and re-tweeted more than 2,200 times. More important, several other bloggers and journalists have come out with posts and articles critical of Klout's business model and privacy policies, including the New York Times. Why I Think Empire Avenue is a Winner. When Scott Monty sent me an invite to play Empire Avenue, the social media world's hot-product-du-jour, I groaned.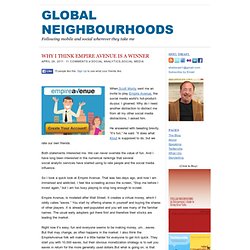 Why do I need another distraction to distract me from all my other social media distractions, I asked him. He answered with tweeting brevity. "It's fun," he said. "It does what Klout is supposed to do, but we rate our own friends. The Shorty Awards - Honoring the best of Twitter and social media.
Feeds
Manage. Podcast. Ryanjz on Social Whale. All things come to an end.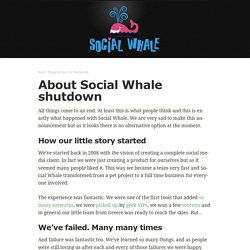 At least this is what people think and this is exactly what happened with Social Whale. We are very sad to make this announcement but as it looks there is no alternative option at the moment. How our little story started. Wjchat. Pro Tip: Use Bit.ly to View Your Competition's Twitter and Facebook Reach. Stepping away from strictly SEO (Search Engine Optimization) for a moment, I want to take a few minutes to share an idea with all of you that you may not be aware of.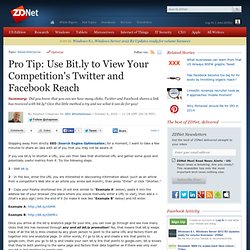 If you use bit.ly to shorten a URL, you can then take that shortened URL and gather some quick and potentially useful metrics from it. Try the following steps: 1 - Visit bit.ly. Untitled. The #wjchat Daily on Twitter. @ryanjz: Dashboard. Ryan Zeigler. : Flavors.me. Ryan Zeigler. Make stories - storify.com. TwtRoulette. Ryan Zeigler on Listorious. Dashboard. 7 Ways you can improve your Facebook page now :: 10,000 Words :: where journalism and technology meet.
Facebook is a major source of traffic for many news sites and it also presents a unique opportunity to interact directly with readers. Make the most of your Facebook presence and make your Page more engaging with the following tips: 1. Twitter / Home. Ryanjz.
---