Search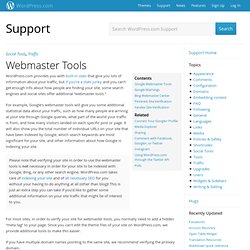 WordPress.com provides you with built-in stats that give you lots of information about your traffic, but if you're a stats junky and you can't get enough info about how people are finding your site, some search engines and social sites offer additional "webmaster tools." For example, Google's webmaster tools will give you some additional statistical data about your traffic, such as how many people are arriving at your site through Google queries, what part of the world your traffic is from, and how many visitors landed on each specific post or page. It will also show you the total number of individual URLs on your site that have been indexed by Google, which search keywords are most significant for your site, and other information about how Google is indexing your site. Please note that verifying your site in order to use the webmaster tools is not necessary in order for your site to be indexed with Google, Bing, or any other search engine.
Webmaster Tools « Support — WordPress.com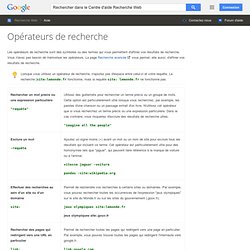 Si vous ne trouvez pas ce que vous cherchez en suivant nos conseils de base pour la recherche, essayez d'utiliser un opérateur de recherche. Ajoutez ces symboles ou ces termes à votre requête dans le champ de recherche Google pour mieux contrôler les résultats obtenus. Ne cherchez pas à mémoriser les opérateurs : vous pouvez utiliser la page Recherche avancée pour générer un grand nombre de ces recherches. Lorsque vous utilisez un opérateur de recherche, n'ajoutez pas d'espace entre celui-ci et votre requête.