Common Core Standards
NAEP Math Curriculum Study
Inside Mathematics
Steal These Tools / Professional Development Modules / Math Shifts Module
Arranging the high school standards into courses Here is a suggested arrangement of the high school standards into courses, developed with funding from the Bill and Melinda Gates Foundation and the Pearson Foundation, by a group of people including Patrick Callahan and Brad Findell. I haven't looked at it closely, but it seems to be a solid effort by people familiar with the standards, so I put it up for comment and discussion. There are five files: the first four are graphic displays of the arrangement of the standards into both traditional and integrated sequences, with the standards referred to by their codes. The fifth is a description of the arrangement with the text of the standards and commentary.
Arranging the high school standards into courses | Tools for the Common Core Standards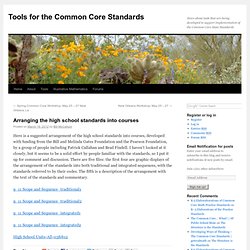 Kansas Common Core Standards > Resources > 2012 Summer Academies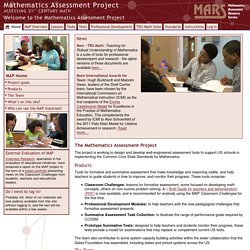 "And I'm calling on our nation's governors and state education chiefs to develop standards and assessments that don't simply measure whether students can fill in a bubble on a test, but whether they possess 21st Century skills like problem solving and critical thinking and entrepreneurship and creativity." President Obama, 1 March 2009. New for 2013: Ten new 'Classroom Challenge' formative assessment lessons for Middle School are now available, including the first five lessons for Grade 6.