Telecom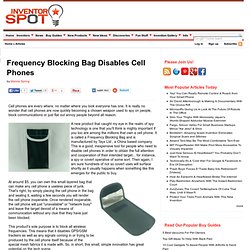 Disable a Cell Phone
Cell phones are every where; no matter where you look everyone has one.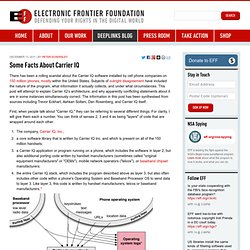 Some Facts About Carrier IQ
There has been a rolling scandal about the Carrier IQ software installed by cell phone companies on 150 million phones, mostly within the United States.
Culture Connoisseur Badge
Google chairman calls Carrier IQ a 'keylogger'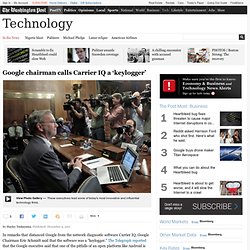 PR.20111212.pdf (application/pdf Object)
Carrier IQ: We've never provided info to the FBI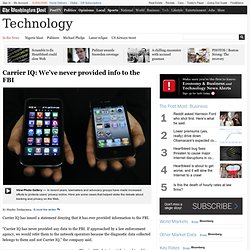 Culture Connoisseur Badge
Dear Carrier IQ: If you want to track me, you need to ask me first
Last week, a bit of an uproar began online when a clever Android developer named Trevor Eckhart discovered something shocking on his phone. While watching the data logs on his handset, he discovered that a piece of software was keeping track of nearly every move he made on the HTC smartphone (an EVO 3D, in case you're sweating right now).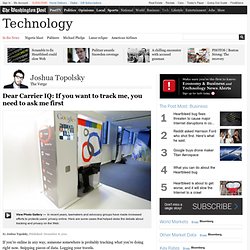 Police Using Apple iOS Tracking Data For Forensics
Nick DePetrillo (Credit: Karen Costello) Two researchers say they have found a way to exploit weaknesses in the mobile telecom system to legally spy on people by figuring out the private cell phone number of anyone they want, tracking their whereabouts, and listening to their voice mail.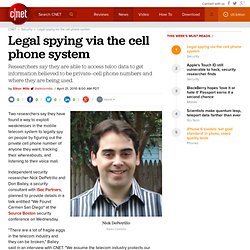 Legal spying via the cell phone system | InSecurity Complex
26th Chaos Communication Congress Here be dragons The worlds most popular radio system has over 3 billion handsets in 212 countries and not even strong encryption. Perhaps due to cold-war era laws, GSM's security hasn't received the scrutiny it deserves given its popularity.
26C3: GSM: SRSLY?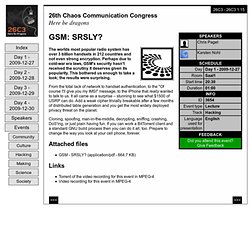 The U.S.
Microsoft May Add Eavesdropping To Skype
NDSS12_WOODPECKER.pdf (application/pdf Object)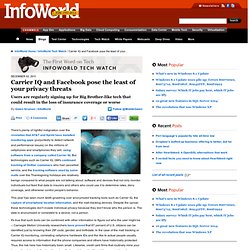 Carrier IQ and Facebook pose the least of your privacy threats | Internet privacy
There's plenty of rightful indignation over the revelation that AT&T and Sprint have installed monitoring apps (purportedly to detect network and performance issues) on the millions of cellphones and smartphones they sell, using software from a company called Carrier IQ.
Researchers find big leaks in pre-installed Android apps
Your Android Phone Is Secretly Recording Everything You Do
CarrierIQ | Android Security Test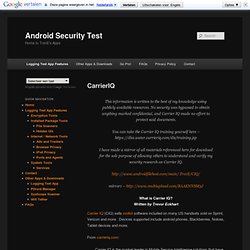 This information is written to the best of my knowledge using publicly available resources.
And the spy and invasion of privacy saga continues, but this time XDA Recognized Developer TrevE seems to have hit the very core of most of what is happening with devices. You may recall from a few articles back that we started talking about something called CIQ or Carrier iQ.
The Rootkit Of All Evil – CIQ
Carrier IQ retracts cease and desist letter sent to security researcher, says it doesn't track Android users
It looks like the unabashed fury of the Android hacking community was too much for data-collection developer Carrier IQ to take: the company has apologized and retracted the cease-and-desist letter it sent security researcher Trevor Eckhart after he posted details and analysis of how Carrier IQ's software works and can be used by the carriers and manufacturers that preload it onto their devices. While the apology is contrite and sincere — Carrier IQ says the letter was "misguided" and that it's "deeply sorry" — the company still says it's being misrepresented, and that it doesn't monitor user data, record keystrokes, or provide tracking information. So what does Carrier IQ actually do?
A data-logging software company is seeking to squash an Android developer's critical research into its software that is secretly installed on millions of phones, but Trevor Eckhart is refusing to publicly apologize for his research and remove the company's training manuals from his website.
Mobile 'Rootkit' Maker Tries to Silence Critical Android Dev | Threat Level
Malls track shoppers' cell phones on Black Friday - Nov. 22
Through this signage at Promenade Temecula, the mall is notifying shoppers that their phones may be tracked as they move throughout the premises. NEW YORK (CNNMoney) -- Attention holiday shoppers: your cell phone may be tracked this year. Starting on Black Friday and running through New Year's Day, two U.S. malls -- Promenade Temecula in southern California and Short Pump Town Center in Richmond, Va. -- will track guests' movements by monitoring the signals from their cell phones.