Scum trash filth lies politics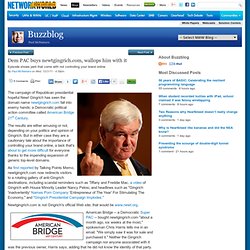 Buzzblog: Dem PAC buys newtgingrich.com, wallops him with it
The campaign of Republican presidential hopeful Newt Gingrich has seen the domain name newtgingrich.com fall into enemy hands: a Democratic political action committee called American Bridge 21st Century. The results are either amusing or not, depending on your politics and opinion of Gingrich. But in either case they are a cautionary tale about the importance of controlling your brand online, a task that's about to get more difficult for everyone thanks to the impending expansion of generic top-level domains. As first reported by Talking Points Memo, newtgingrich.com now redirects visitors to a rotating gallery of anti-Gingrich destinations, including scandal reminders such as Tiffany and Freddie Mac, a video of Gingrich with House Minority Leader Nancy Pelosi, and headlines such as "Gingrich 'Inadvertently' Names Porn Company 'Entrepreneur of The Year' For Stimulating The Economy," and "Gingrich Presidential Campaign Implodes."
It's interesting to consider what the latest right wing craziness tells us about their vision of America. Judging from the recent NRA ad portraying secret service protection for the President's children as some sort of elitist perk, their idea of a "free" country is one that's in more or less permanent paramilitary lockdown. The children of America, they believe, should live lives as circumscribed and carefully controlled as the children of prominent figures who are the targets of frequent death threats. No more walking to school without an armed guard, no more taking off for a game of baseball in a nearby park, no more spur of the moment pizzas with friends… Another asset but these fees paid in certain http://www.viagra-1online.com/ viagra 100mg price payday loansfor those tough times. Ideal if those having a prepaid viagra kaufen soft cialis card bills in place.
thought crimes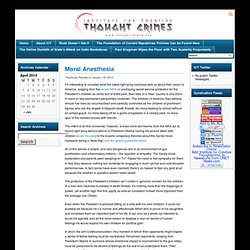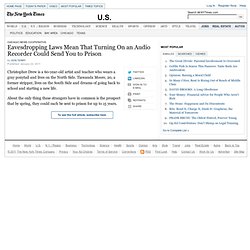 Eavesdropping Laws Mean That Turning On an Audio Recorder Could Send You to Prison
About the only thing these strangers have in common is the prospect that by spring, they could each be sent to prison for up to 15 years. "That's one step below attempted murder," Mr. Drew said of their potential sentences. The crime they are accused of is eavesdropping. The authorities say that Mr.
By Patrick Martin 11 September 2010 The US Department of Defense is negotiating with a major US publisher, St. Martin's Press, to buy and destroy all 10,000 copies of a book written by a former Defense Intelligence Agency officer about his experiences in Afghanistan. The author, Anthony A. Shaffer, a lieutenant colonel in the Army Reserve, reportedly repeats his declaration, first made in 2005, that US intelligence agencies had identified the leader of the 9/11 terrorist attacks, Mohammed Atta, and three other suicide hijackers well in advance of September 11, 2001. The extraordinary effort to suppress Shaffer's book, Operation Dark Heart, comes despite initial clearance given to the manuscript by the US Army in January, when Shaffer agreed to unspecified changes and redactions and obtained a statement that the Army had "no objection on legal or operational security grounds."
Pentagon seeks to suppress book by 9/11 whistleblower