Find: people
The Most Badass Tombstones Ever from Ace of Base. IKONOS-Venice-crop_H1.jpg (JPEG Image, 1920 × 1145 pixels) Native American Constitution and Law Digitization Project. Ruth Groves. Free People Search | People Search | Search For People At PeekYou. YoName - People Search. Search for people across social networks, blogs and more. Free People Search - Find People - Wink. Yellow Pages and White Pages Telephone Directory | Switchboard.com. Free genealogy and family tree search tips, how to articles and on-line genealogy tutorials | Treasure Maps Genealogy.
Universe Sandbox. Cemetery Records. Free Genealogy Lookups from Our Look Up Volunteers. Volunteer here to do free genealogy look ups for others.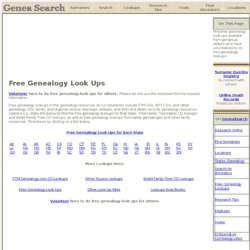 Please do not use the volunteer form to request information. Free genealogy lookups in the genealogy resources of our volunteers include FTM CDs, WFT CD's, and other genealogy CDs, family, and regional census, marriage, obituary, and birth and death records genealogy resources. Select a U.S. state link below to find the free genealogy lookups for that state. Find Family Tree Maker CD lookups and World Family Tree CD lookups, as well as free genealogy lookups from family genealogies and other family resources. Cherokee Images -- Tribal Art and Culture. Who's Alive and Who's Dead. Cemetery Records Online - Search Cemeteries.
Tribes-of-indian-nations-map.jpg (JPEG Image, 1419x1056 pixels)
Geneology. People Search by ZabaSearch - Free People Search Engine. The Official WhitePages - Find People for Free. People Search & Background Check. People finder investigative resource software information searches. Yellow Pages and White Pages Telephone Directory | Switchboard.com. Spokeo People Search - Not Your Grandma's White Pages. Instant Background Check - Free Background Check. People Finder | Search People | SearchBug. Public Records - State Records – County Records - Find People | Publicrecordfinder.com. Pipl - People Search.
Where can I get free criminal background checks? People Search | Background Check | Reverse Cell Phone Lookup - Intelius.com. 25 Free People Search Engines to Find Anyone. I've been in this people search industry for over 3 years now and while researching, I found many free, high quality free people search engines to help you reconnect with friends, family, school friends or any other person from your past (or, in other words, find anyone for free online.)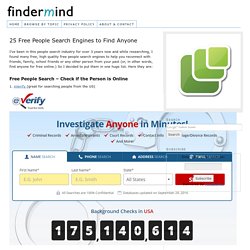 So I decided to put them in one huge list. Here they are: Free People Search – Check if the Person is Online 1. Records Room: United States.
---