Photography
Digital Cameras, Digital Camera Reviews - The Imaging Resource! KenRockwell.com. Digital Camera Tips and Reviews: Photonhead, The Essence of Mode. Digital Photography Tutorials. Learn how to take and edit digital photographs using visual tutorials that emphasize concept over procedure, independent of specific digital camera or lens.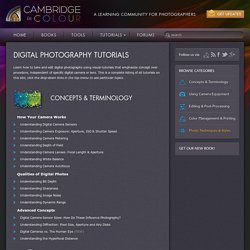 This is a complete listing of all tutorials on this site; click the drop-down links in the top menu to see particular topics. Photography is going through an exciting transition period as many film photographers are beginning to explore the new capabilities of digital cameras. The Luminous Landscape. 90+ Online Photography Tools and Resources. Photos are everywhere on the web.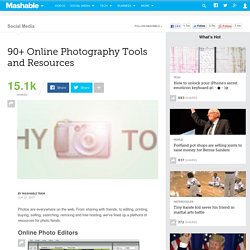 From sharing with friends, to editing, printing, buying, selling, searching, remixing and free hosting, we've lined up a plethora of resources for photo fiends. Online Photo Editors. PhotoOnHead. Focus on Photography. Expert Advice on Taking Better Travel Photos The photos above won grand prize honors in a recent Fodor's photo contest, in which we asked our members to show us their very best snapshots of Alaska.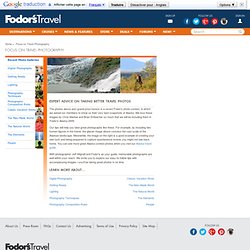 We love these images by Chris Marlow and Brian Embacher so much that we will be including them in Fodor's Alaska 2009. Our tips will help you take great photographs like these. Improve Your Photos 60 Seconds at a Time. If you are tired of reading long explanations and confused by tricky photo techniques, here you can have it short and sweet.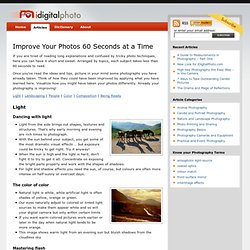 Arranged by topics, each subject takes less than 60 seconds to read. Once you've read the ideas and tips, picture in your mind some photographs you have already taken. Think of how they could have been improved by applying what you have learned here. Digital Learning Center. Learning Center. Photojojo - The best photo tips, DIY projects, and gear in the w. FunPhotoBox - funny pictures, funny photo effects. Make fun with.
Digital photography classes online at BetterPhoto. DSLR News Shooter. Digital cameras, all other cameras and everything photographic f. Street Photography guide from Photo.net. "Stare.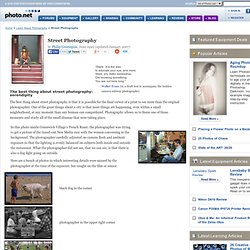 It is the way to educate your eye, and more. Stare, pry, listen eavesdrop. Die knowing something. You are not here long. " Walker Evans (in a draft text to accompany the hidden camera subway photographs) 5 Common Mistakes Aspiring Travel Photographers Make. A photo a day.
---