Jewelry
I was walking through Target a few weeks ago and noticed this little knit fabric headband that was not just braided together…….but woven. I decided they were charging way too much for something that could be made with t-shirt scraps. And that means free.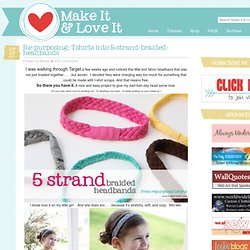 Heather's Friendship Bracelets -- First Pattern Set
I've been itching to make myself some jewelry inspired by Aurélie Bidermann's "Do Brasil" line. Since I don't have 300 Euros lying around, this looked like a design I could recreate on my own. I was primed to put together a DIY Tutorial for you all when I discovered that Honestly WTF had already done the honors. I picked up the gold necklace and the two bracelet chains from an antique shop for $5 a piece, and had the embroidery thread on hand. I only needed scissors and two bobby pins to see this project through.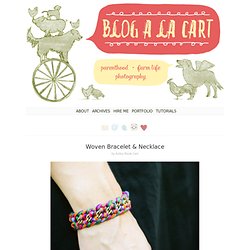 Tutorial : DIY Studded Wrap Bracelet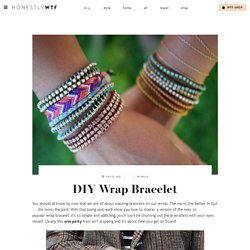 You should all know by now that we are all about stacking bracelets on our wrists. The more, the better. In fact . . . the most, the best! With that being said, we'll show you how to master a version of the ever so popular wrap bracelet. It's so simple and addicting, you'll soon be churning out these wristlets with your eyes closed.
The moment we saw Phillip Lim's Box Braid Collar Necklace, we were immediately overcome with a wave of nostalgia. Our memories of a neon, plastic box braid lanyard was suddenly transformed into a sophisticated leather jewelry component. Honestly, brilliant! Inspired by our fondness of Lim's necklace and our love of utilizing hardware, we made our own interpretation of a box braid necklace. And in case you forgot how to make your favorite childhood summertime craft, take a trip down memory lane with us!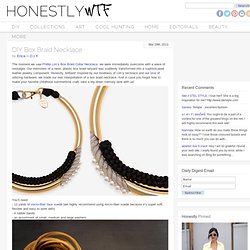 Do. It. Yourself. Duh!!!
SugarBlog - Not a $168 necklace!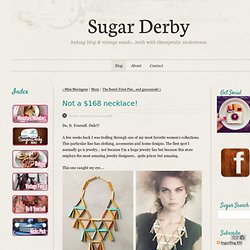 This post is experiencing technical difficulties. See a similar post here. Things you need for this DIY: *a curb chain bracelet or some curb chain, jump rings and a clasp *embroidery thread *scissors *a bobby pin or a two inch piece of wire bent in half *pliers (if you don't buy the pre-made bracelet) Total time: 1 hour Total cost: $4-$17 diy chain warp woven bracelet