Hair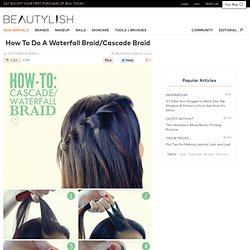 The waterfall braid also known as the cascade braid recently exploded as the new "trend braid" of the season. The waterfall effect looks cool and complex, but it's easier to style than you think. Give this beautiful braid a try when Beautylish takes you through the how-to!
Last month I did a makeover story with Kelsie and had many requests for a maiden braid tutorial. Yesterday she came in and we photographed these simple step by steps. Kelsie has extremely long and thick hair, but anyone with shoulder length or longer can do these braids (see my photo below for an example). Steps 1-2: Braid two strands on each side of a center part. Steps 3-5: Wrap braids around the crown of your head and pin in place with one pin each. Step 6: Arrange braids so that they cover the front of your head like a headband.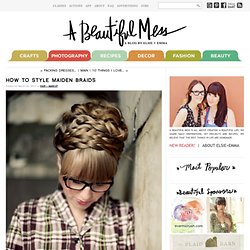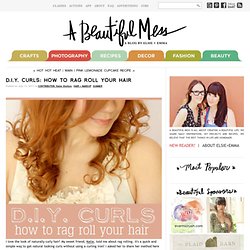 I love the look of naturally curly hair! My sweet friend, Katie, told me about rag rolling. It's a quick and simple way to get natural looking curls without using a curling iron! I asked her to share her method here on A Beautiful Mess because I knew you'd be itching to learn like I was!
Move beyond the basic plait with a fishtail braid. Stylist Tommy Bucket explains how to wear the hairstyle, like Rihanna, Kim Kardashian and Angela Simmons have already done (watch a video tutorial below!) STEP 1 Separate hair into two equal sections at the back of the head.
How To Fishtail Braid | Hello Beautiful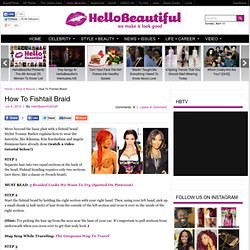 LOOK: The Fishtail Braid
April 15, 2011 Filed Under: Hair, Looks, Trends, Tutorials, Tutorials When I was a little girl, I had this amazing 'KLUTZ' brand book that had tons of different ways to braid and style your hair. Apart from the fact that most were tied off with gigantic lime green scrunchies, many of the braids I performed on the heads of my un-suspecting barbies are still popular today.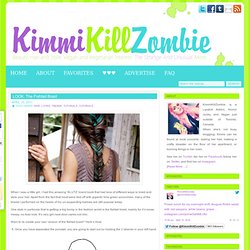 June 23, 2011 1 Comment Filed Under: Hair , Tutorials I can do casual hair.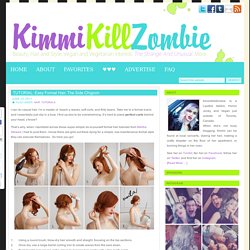 TUTORIAL: Easy Formal Hair, The Side Chignon