Funny
Jpg00000.jpg from kth.se. Computer Enhancers. If Historical Events had Facebook Statuses. How You Can Spot A Republican: A Joke. The man consulted his portable GPS and replied, "You're in a hot air balloon, approximately 30 feet above ground elevation of 2,346 feet above sea level.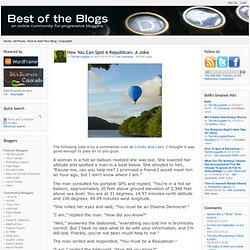 You are at 31 degrees, 14.97 minutes north latitude and 100 degrees, 49.09 minutes west longitude. "She rolled her eyes and said, "You must be an Obama Democrat. " Untitled Document. Rabbits-thesis.htm from ncl.ac.uk. One sunny day a rabbit came out of her hole in the ground to enjoy the fine weather.
The day was so nice that she became careless and a fox sneaked up behind her and caught her. "I am going to eat you for lunch! " Cookies by Douglas Adams - StumbleUpon. Imagesvirtual-farm.jpg from bitsandpieces.us. 1270249666BEOiLlH3L5_1_1_l.jpg from hardocp.com.
---