JQuery
Ever seen some excellent jQuery navigation that left you wanting to make one of your own? Today we'll aim to do just that by building a menu and animate it with some smooth effects. The Goal – One Smooth Menu Here's a demo of what we'll end up with by the end. Introduction – An explanation of easing The menu has such a smooth animation because of a thing called "easing".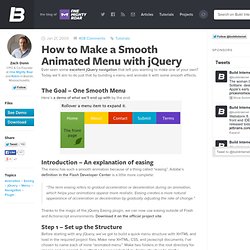 My last little jQuery tutorial was an alternative to using CSS to create an image change on a mouseover. Now I want to take that one step further and add a fade effect. For my example, I am going to make a black and white image fade into a color image.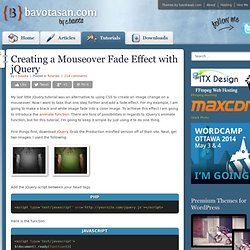 10 Superb Image Effects and Slider Tutorials with Jquery
10 Superb Image Effects and Sliders with Jquery and CSS. I haven't been into jquery much but since i had to use it in one of my site i worked on one and i became a fan of jquery. that is why i have gathered a list of awesome jquery effects tutorial for images and sliders. All tutorials are gathered from various sites and are linked back. Fancy Thumbnail Hover Effect w/ jQuery This is an awesome thumbnail hover effect jquery tutorial.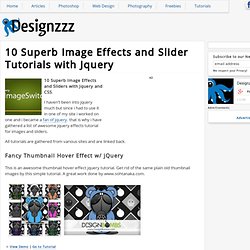 What is jQuery? jQuery is a fast, small, and feature-rich JavaScript library. It makes things like HTML document traversal and manipulation, event handling, animation, and Ajax much simpler with an easy-to-use API that works across a multitude of browsers. With a combination of versatility and extensibility, jQuery has changed the way that millions of people write JavaScript. Corporate Members
Filed in Effects - over 3 years ago In this tutorial we will use some images, CSS and jQuery to create the effect of a rotating billboard with two ads. The idea is to make one set of image slices disappear while another one (the other ad) appear.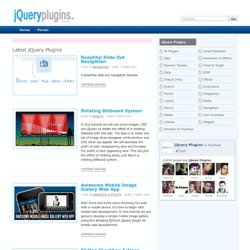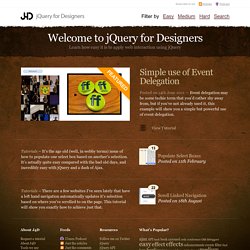 Featured Simple use of Event Delegation Posted on 14th June 2011 — Event delegation may be some techie term that you'd rather shy away from, but if you've not already used it, this example will show you a simple but powerful use of event delegation. View Tutorial Tutorials – It's the age old (well, in webby terms) issue of how to populate one select box based on another's selection.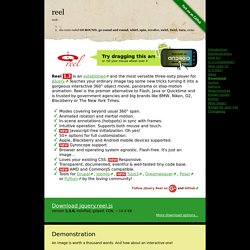 jQuery Reel Plugin
verb ... the room reeled GO ROUND, go round and round, whirl, spin, revolve, swirl, twirl, turn, swim. Try dragging this area or roll your mouse wheel over it Now even on Android Reel 1.3 is an established and the most versatile three-sixty player for jQuery. Teaches your ordinary image tag some new tricks turning it into a gorgeous interactive 360° object movie, panorama or stop-motion animation.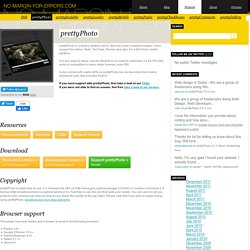 To open inline content, simply: Create a link (<a href="#">). Add the rel attribute "prettyPhoto" to it (rel="prettyPhoto"). Change the href of your link so it is the ID of the inline content you want to open with the ID CSS selector (#). This is inline content opened in prettyPhoto.
SuperSite.Me - Supersite Your Website!
Gaya Design - Presentation Cycle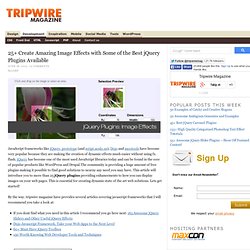 25+ Create Amazing Image Effects with Some of the Best jQuery Plugins Available
JavaScript frameworks like jQuery, prototype (and script.aculo.us), Dojo and mootools have become very popular because they are making the creation of dynamic effects much easier without using fx. flash. jQuery has become one of the most used JavaScript libraries today and can be found in the core of popular products like WordPress and Drupal.The community is providing a huge amount of free plugins making it possible to find good solutions to nearny any need you may have. This article will introduce you to more than 25 jQuery plugins providing enhancements to how you can display images on your web pages. This is essential for creating dynamic state of the art web solutions. Lets get started! By the way. tripwire magazine have provides several articles covering javascript frameworks that I will recommend you take a look at: Advertisement
ColorBox, A jQuery Lightbox
A lightweight customizable lightbox plugin for jQuery Fork me on GitHub View Demos Download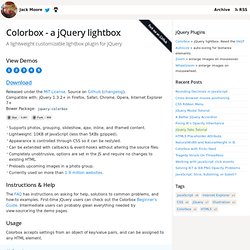 jQuery Examples
Since the arrival of the jQuery library, the life of JavaScript programmers have gotten a lot easier because now it's simpler to develop web 2.0 applications. With jQuery, the programmers can keep their code organized and concise, which is the major slogan of the library, "write less, do more". You can utilize jQuery to handle events, generate animations, and even add an Ajax support into your web applications in a very easy way. Certainly you can use JavaScript to execute all the jQuery functions, but if you use it, your programming times will reduce and your effectiveness will increase, and that's the real magic of jQuery.