Chemistry
Plasmas
Plasmas exist in a wide range of settings and varieties. Most stars are made up of plasma.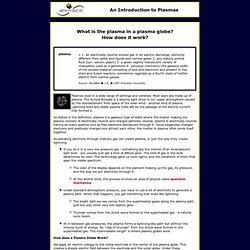 a reference text for General Chemistry Stephen Lower Simon Fraser University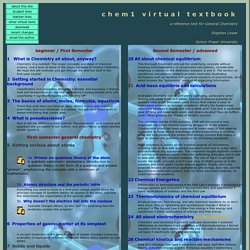 MSDS ARCHIVE FOR THE CNTECH LABORATORIES
MSDS (Material Safety Data Sheets) at CNTech Etchants, adhesives, plating baths, etc.
Material Safety Data Sheet Salicylic acid MSDS Name: Salicylic acid Catalog Numbers: AC147700010, AC419220020, AC419220025, AC419225000, S78056, S780561, S93345, A275-12, A275-212, A275-500, A275250LB, A277-500 Synonyms: o-Hydroxybenzoic acid; 2-Hydroxybenzoic acid.
unnamed pearl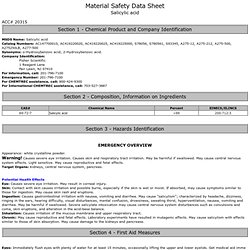 Welcome to ChemWeb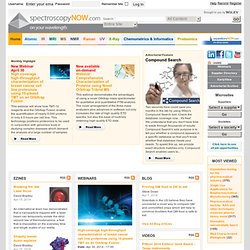 Ezines This review describes studies that use mass spectrometry-based proteomics technologies to analyse tumour proteins and peptides which might represent new diagnostic, prognostic and predictive markers for lung cancer.
NMR Knowledge Base - The NMR Resource
An Interactive Educational Exercise Because of special formatting tags needed to display exponents, this site is best viewed with Netscape 3.0 or higher. If needed, use the link under Useful Materials to download Netscape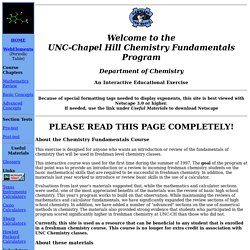 Online chemical modeling environment (OCHEM): web platform for data storage, model development and publishing of chemical information
Conductive Polymers
Bond Energy
If we pass a direct electric current through water containing enough ions to make it a good electrical conductor, it will break down into its constituents: hydrogen and oxygen. Both hydrogen and oxygen gas exist as diatomic molecules so the equation for this chemical reaction is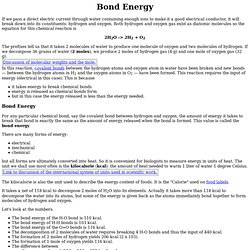 jp962922n_size-optical_spec.pdf (application/pdf Object)