Développement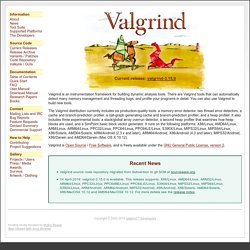 Current release: valgrind-3.9.0 Valgrind is an instrumentation framework for building dynamic analysis tools. There are Valgrind tools that can automatically detect many memory management and threading bugs, and profile your programs in detail. You can also use Valgrind to build new tools. The Valgrind distribution currently includes six production-quality tools: a memory error detector, two thread error detectors, a cache and branch-prediction profiler, a call-graph generating cache and branch-prediction profiler, and a heap profiler. It also includes three experimental tools: a stack/global array overrun detector, a second heap profiler that examines how heap blocks are used, and a SimPoint basic block vector generator.
gilles.hunault@univ-angers.fr 1. Qu'est-ce qu'AJAX ?
Tuteur AJAX / AJAX Tutorial
Tous ceux qui manipulent des fichiers, en souhaitant conserver l'historique de leur travail, trouveront un intérêt à s'appuyer sur un VCS. L'un de leurs principaux intérêts est de permettre le développement mutualisé, avec une gestion des conflits. Pourtant en pratique, il s'avèrera particulièrement utile, même pour un utilisateur isolé. Son choix parmi les nombreux outils disponibles (centralisé ou réparti) aura nécessairement un impact fort sur le modèle de développement suivi. Qu'est-ce qu'un 'Système de gestion de versions' ?
Faut-il passer d'un système de gestion de versions centralisé à un système décentralisé | Réseau des Informaticiens IN2P3 et IRFU