Website
Blogging
Coding. Beginners web design - Page 4 - DesignersTalk. Web Developer. My Design Process: Everything You Need to Know. A recent How Magazine article dealing with the creative process led me to think about my own process.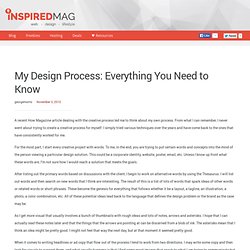 From what I can remember, I never went about trying to create a creative process for myself. I simply tried various techniques over the years and have come back to the ones that have consistently worked for me. Other webdesign pearls. Add your URL to Google. 5 Easy Ways to Prepare Your Web Designs for Coding | cssWOW:: CSS Gallery. Things-To-Do Before Publishing Your Site | gonzoblog.nl_V.02. Everytime you're working on a new website there are some things and/or actions that should be considered before publishing a new website and making everything public.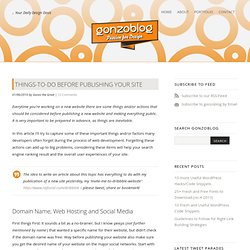 It is very important to be prepared in advance, as things are inevitable. In this article I'll try to capture some of these important things and/or factors many developers often forget during the process of web development. Forgetting these actions can add up to big problems, considering these items will help your search engine ranking result and the overall user experiences of your site.
The idea to write an article about this topic has everything to do with my publication of a new site yesterday, my 'invite-me-to-dribbble-website': – please tweet, share or bookmark! Domain Name, Web Hosting and Social Media.
Wordpress
Webhosting. 20 Best Design Tutorials From 2010 To Create an Mind-blowing Website.
---