rpater
Rodrigo Paterlini
Get flash to fully experience Pearltrees
Web Development For Beginners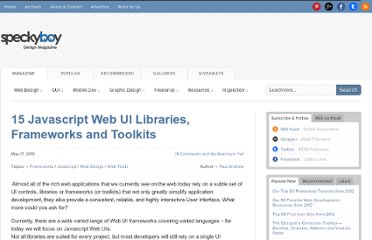 Almost all of the rich web applications that we currently see on the web today rely on a subtle set of UI controls, libraries or frameworks (or toolkits) that not only greatly simplify application development, they also provide a consistent, reliable, and highly interactive User Interface. What more could you ask for? Currently, there are a wide varied range of Web UI frameworks covering varied languages – for today we will focus on Javascript Web UIs.
Over the last year, Smashing Magazine has evolved.
Whatever content you have to present, you can present them in a more interactive & more responsive ways.
Generating Graphics, Charts
Tempo takes information encoded as JSON and renders it according to an HTML template. Below is a sample array of JSON data.
one script closer to designing in the browser Say goodbye to Alt-Tab. Live.js makes sure you're always looking at the latest version of the page you're working on, whether you're writing HTML, CSS or Javascript.