Rpater
Rodrigo Paterlini
40 Useful JavaScript Libraries | Strong Life
Almost all of the rich web applications that we currently see on the web today rely on a subtle set of UI controls, libraries or frameworks (or toolkits) that not only greatly simplify application development, they also provide a consistent, reliable, and highly interactive User Interface. What more could you ask for? Currently, there are a wide varied range of Web UI frameworks covering varied languages – for today we will focus on Javascript Web UI libraries.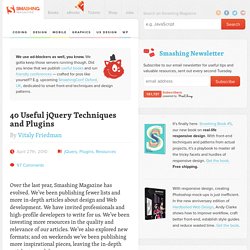 Advertisement Over the last year, Smashing Magazine has evolved. We've been publishing fewer lists and more in-depth articles about design and Web development. We have invited professionals and high-profile developers to write for us.
Whatever content you have to present, you can present them in a more interactive & more responsive ways. In this article we'd like to present 10 Brilliant techniques using some jQuery magic to grab the attention of your users with a simple, rich user experience that gets them excited about your website. 1. Fluid Navigation – How to create an informative menu-bar with jQuery & CSS Learn how to create a menu that appears like a standard menu bar in it's default state, but which on rollover pulls down an information area that covers both the original menubar item and has an expanded section containing the text we want to display.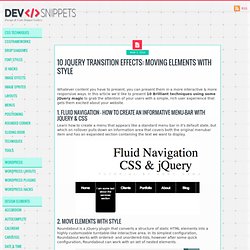 canvasXpress | Javascript Canvas Graphing Library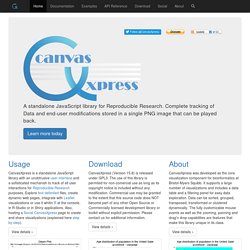 CanvasXpress is a standalone HTML5 graphing library written in Javascript that includes a simple and unobtrusive user interfase to explore complex data sets. CanvasXpress is supported in all major browsers in computers and mobile devices. CanvasXpress is released under GPL3. The use of this library is permited for non-comercial use as long as its copyright notice is included without any modification. CanvasXpress was developed as the core visualization component for bioinformatics and systems biology analysis at Bristol-Myers Squibb.
Generating Graphics, Charts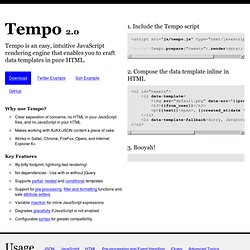 Tempo :: The tiny JSON rendering engine by TwigKit
Tempo takes information encoded as JSON and renders it according to an HTML template. Below is a sample array of JSON data. JavaScript
As you are growing old, home may more position and more of worry, particularly although your health is fading. And if you are anxious that you may not be worth to great care of your elementary wants as your age, as that neat and clean, cooking, taking bath and care, then observing at your long time of your wellbeing care or upkeep alternatives is a main choice. Let us begin the best way with your choices. Home healthcare or wellbeing upkeep Wellbeing upkeep is the best choice for individuals who have a top level of healthiness and desires to continue as free as may be through out their future years.
riak-js | Riak Javascript library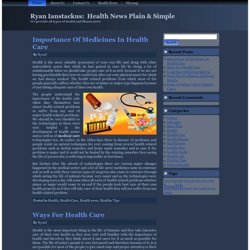 Live.js - One script closer to Designing in the Browser
one script closer to designing in the browser Say goodbye to Alt-Tab. Live.js makes sure you're always looking at the latest version of the page you're working on, whether you're writing HTML, CSS or Javascript.