Lions
WHERE: Sub-Saharan Africa and small pockets in parts of Asia and India.
COAT: Although both the mane of male lions and coat color vary greatly, lions are generally tan with a lighter underside that may still harbor their baby spots.
WEIGHT & LENGTH: 260 - 550 lbs; 6 - 8 ft
UNIQUE: Before the rise of people, lions where the most wide-spread carnivorous land mammal on Earth. Even in the past two decades, lion populations have dropped 30-50%. Oct 5
Contemplative
A 500-pound lion and an 11-pound dog have formed an unlikely friendship, proving that cats and dogs really can get along. The puppies were introduced to Bonedigger in 2008 when he was just a 4-week-old cub.
Crippled lion is dachshund's best friend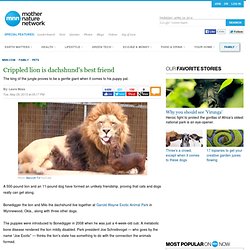 Charging Lion
7 Lions In A Tree [PIC]
White lion cub
White Lion at the Seaview Game & Lion Park
Blog » BeetleCam vs the Lions of the Masai Mara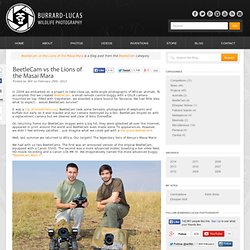 For more BeetleCam photos, entertaining video clips and information about how you can purchase a BeetleCam, please check out the new BeetleCam website . Coming from Facebook or Twitter? Connect with me here: - facebook.com/BLphotography - twitter.com/willbl In 2009 we embarked on a project to take close-up, wide-angle photographs of African animals.
Stunning White Lions
The Barbary lion ( Panthera leo leo ), also known as the Atlas lion is a subspecies of lion that became extinct in the wild in the 20th century. Its former habitat range was in North Africa encompassing the region from Morocco to Egypt . [ edit ] Description Stuffed specimens, Muséum National d'Histoire Naturelle à Paris The Barbary lion is often regarded as the largest and the heaviest of the lion subspecies with estimated weights for males of 190 to 230 kilograms (420 to 510 lb) and for females of 150 to 190 kilograms (330 to 420 lb). [ 1 ] These weight ranges have been criticized for being greatly exaggerated, however, with the Barbary lion being considered similar in size to the lions in East Africa. [ 2 ] Male Barbary lions were around 2.7 to 3.4 metres (8 ft 10 in to 11 ft 2 in) in length and females were around 2.1 to 2.7 metres (6 ft 10 in to 8 ft 10 in) in length. [ 1 ]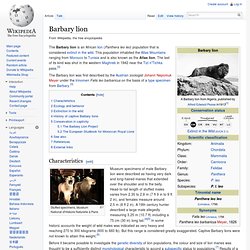 Barbary lion
Face-Off with a Lion
I'm a huge animal lover. I really am! When I was 10 I used to watch Animal Planet with my dad and whenever I saw a lion cub, a cheetah cub or a leopard I used to always bug my dad to buy me one. Well I didn't get my favorite pet (my dad always used to say " An animal belongs in the woods or the jungle. If you take him out of there you're only going to ruin its life ") but I meet people that are animal lovers as well and I got to work with lions, cheetahs, monkeys, wolves, cats, dogs, you name it! So here is a photo collection of the great White Lion , or the Candy Lion as I like to call it.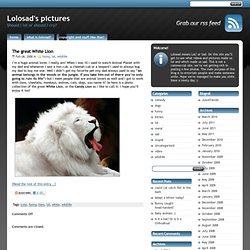 The Great White Lion
Hugs with Lions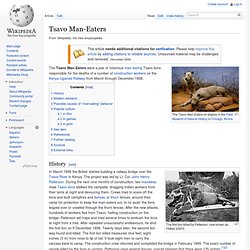 Tsavo maneaters
The Tsavo Man-Eaters were a pair of notorious man-eating lions responsible for the deaths of a number of construction workers on the Kenya-Uganda Railway from March through December 1898. [ edit ] History The first lion killed by Patterson, now known as FMNH 23970 In March 1898 the British started building a railway bridge over the Tsavo River in Kenya . The project was led by Lt.
Karis is a young lion cub at Scotland's Blair Drummond Safari Park. Recently, as her keepers were raking leaves to tidy up her enclosure, one of them thought it might be fun to leave a pile for Karis to play in.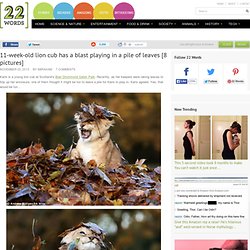 Lion cub has a blast playing in a pile of leaves
Lion Photography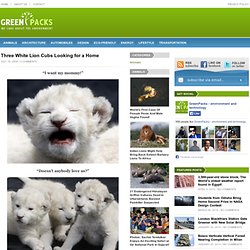 "I want my mommy!" "Doesn't anybody love us?" "We're hungry!" "I need burping!" "Well, at least we have each other." "Alright guys!
Three White Lion Cubs Looking for a Home