Lions
WHERE: Sub-Saharan Africa and small pockets in parts of Asia and India.
COAT: Although both the mane of male lions and coat color vary greatly, lions are generally tan with a lighter underside that may still harbor their baby spots.

WEIGHT & LENGTH: 260 - 550 lbs; 6 - 8 ft
UNIQUE: Before the rise of people, lions where the most wide-spread carnivorous land mammal on Earth. Even in the past two decades, lion populations have dropped 30-50%. A Pride of Lions Play With a Photographer's RC Car. The Results Are Awesome. Photographer Chris McLennan got closer to a pride of lions than any other photographer possibly could (although he did cheat a bit).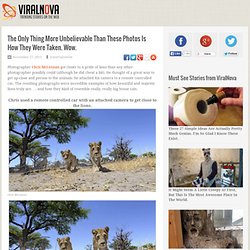 He thought of a great way to get up-close and person to the animals: he attached his camera to a remote controlled car. The resulting photographs were incredible examples of how beautiful and majestic lions truly are. … and how they kind of resemble really, really big house cats. Chris used a remote controlled car with an attached camera to get close to the lions. Shocking Study Finds Lions are Nearly Extinct in West Africa. Physically and emotionally demanding.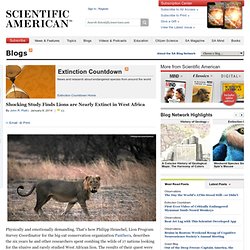 That's how Philipp Henschel, Lion Program Survey Coordinator for the big-cat conservation organization Panthera, describes the six years he and other researchers spent combing the wilds of 17 nations looking for the elusive and rarely studied West African lion. The results of their quest were disheartening to say the least. Back in 2005, before the survey began, West African lions were believed to live in 21 different protected areas. But now a paper about the survey, published today in PLoS One, confirms that lions actually exist in just four of those sites. Worse still, the researchers estimate that the total population for West African lions is only about 400 animals, including fewer than 250 mature individuals of breeding age. Two Lionesses with Cub.
Contemplative. Random photo Submit your photo Stumble Thru animal photography Tags: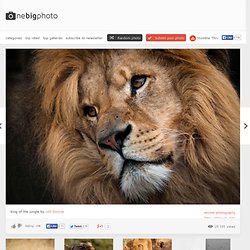 Crippled lion is dachshund's best friend. A 500-pound lion and an 11-pound dog have formed an unlikely friendship, proving that cats and dogs really can get along.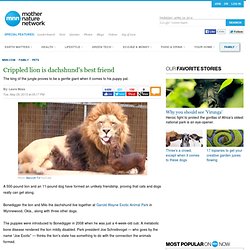 The puppies were introduced to Bonedigger in 2008 when he was just a 4-week-old cub. A metabolic bone disease rendered the lion mildly disabled. Park president Joe Schreibvogel — who goes by the name "Joe Exotic" — thinks the lion's state has something to do with the connection the animals formed. "The dogs thought it was just a big puppy and have loved each other since," he told Today. "I also think they know the lion is not as normal as the rest." Charging Lion. Historic (red) vs Present (blue) range of Lions.
7 Lions In A Tree [PIC] White lion cub. White Lion at the Seaview Game & Lion Park. Little Lion Cubs. Blog » BeetleCam vs the Lions of the Masai Mara. In 2009 we embarked on a project to take close-up, wide-angle photographs of African animals.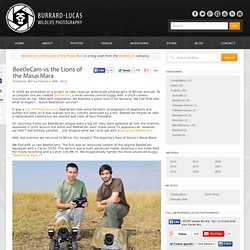 To accomplish this we created BeetleCam, a small remote control buggy with a DSLR camera mounted on top. Filled with trepidation, we boarded a plane bound for Tanzania. We had little idea what to expect… would BeetleCam survive? Barbary lion. The Barbary lion is an African lion (Panthera leo leo) population that is considered extinct in the wild.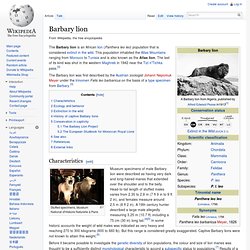 This population inhabited the Atlas Mountains ranging from Morocco to Tunisia and is also known as the Atlas lion. The last of its kind was shot in the western Maghreb in 1942 near the Tizi n'Tichka pass.[2] The Barbary lion was first described by the Austrian zoologist Johann Nepomuk Meyer under the trinomen Felis leo barbaricus on the basis of a type specimen from Barbary.[3] Characteristics[edit]
Male Lion. Face-Off with a Lion. Lion in Snow. The Great White Lion. I'm a huge animal lover.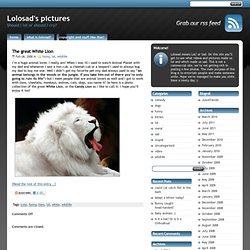 I really am! When I was 10 I used to watch Animal Planet with my dad and whenever I saw a lion cub, a cheetah cub or a leopard I used to always bug my dad to buy me one. Well I didn't get my favorite pet (my dad always used to say "An animal belongs in the woods or the jungle. If you take him out of there you're only going to ruin its life") but I meet people that are animal lovers as well and I got to work with lions, cheetahs, monkeys, wolves, cats, dogs, you name it! So here is a photo collection of the great White Lion, or the Candy Lion as I like to call it.
31 Day Old Lion Cub. Hugs with Lions. Tsavo maneaters. The Tsavo Man-Eaters were a pair of notorious man-eating Tsavo lions responsible for the deaths of a number of construction workers on the Kenya-Uganda Railway from March through December 1898.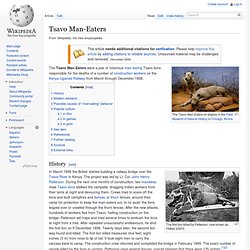 History[edit] The first lion killed by Patterson, now known as FMNH 23970. The second lion, FMNH 23969 Patterson writes in his account that he wounded the first lion with one bullet from a Martini-Enfield chambered in .303 calibre. Kid vs Lion at the Zoo. Lion cub has a blast playing in a pile of leaves. Lion Photography. Three White Lion Cubs Looking for a Home. EmailEmail "I want my mommy!"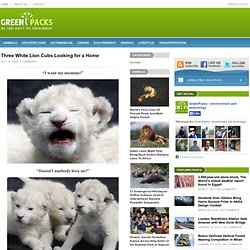 "Doesn't anybody love us?" "We're hungry!" "I need burping!" "Well, at least we have each other."
---