Faith
Topics
Different religious groups include different books in their Biblical canons, in varying orders, and sometimes divide or combine books, or incorporate additional material into canonical books. Christian Bibles range from the sixty-six books of the Protestant canon to the eighty-one books of the Ethiopian Orthodox Tewahedo Church canon. The Tanakh or T-N-K canon contains twenty-four books divided into three parts: the five books of the Torah ("teaching"); the Nevi'im ("prophets"); and the Ketuvim ("writings"). The first part of Christian Bibles is called the Old Testament, which contains, at minimum, the above twenty-four books but divided into thirty-nine books and ordered differently, sometimes also called the Hebrew Bible. The Catholic Church and Eastern Christian churches also hold that certain deuterocanonical books and passages are part of the Old Testament canon.
Books of the Bible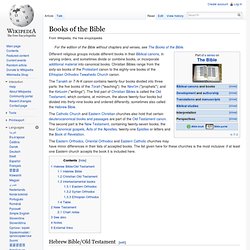 THEY PREACHED ABOUT JESUS – NOW THEY MUST BE PUNISHED – Thanks to the radical left, it is now against the law to preach about Jesus in America. Who would have ever thought that it would be against the law to preach about Christianity in America? 4 Christians were charged with disturbing the peace for preaching about Jesus in Dearborn, Michigan.The Detroit News reported, via Memeorandum: Four Christian missionaries were arraigned today on misdemeanor charges of disturbing the peace following their June 18 arrest at the Arab International Festival.Negeen Mayel, 18, of California; Nabeel Qureshi, 29, of Virginia; Paul Rezkalla, 18 of New York, and David Wood, 34, also of New York, face fines of up to $500 each and up to 93 days in jail. Dearborn authorities said the four "chose to escalate their behavior, which appeared well-orchestrated and deliberate" as they handed out religious literature and talking with people at the festival.
Gateway Pundit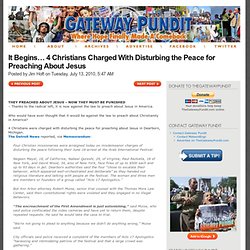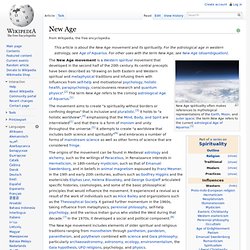 The New Age movement is a Western spiritual movement that developed in the second half of the 20th century. Its central precepts have been described as "drawing on both Eastern and Western spiritual and metaphysical traditions and infusing them with influences from self-help and motivational psychology, holistic health, parapsychology, consciousness research and quantum physics".[2] The term New Age refers to the coming astrological Age of Aquarius.[1] The movement aims to create "a spirituality without borders or confining dogmas" that is inclusive and pluralistic.[3] It holds to "a holistic worldview",[4] emphasising that the Mind, Body, and Spirit are interrelated[1] and that there is a form of monism and unity throughout the universe.[5] It attempts to create "a worldview that includes both science and spirituality"[6] and embraces a number of forms of mainstream science as well as other forms of science that are considered fringe.
Author: European Antichrist looking more and more unlikely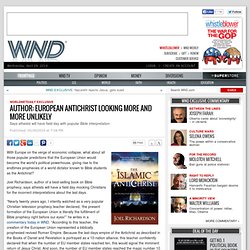 Text smaller Text bigger With Europe on the verge of economic collapse, what about all those popular predictions that the European Union would become the world's political powerhouse, giving rise to the endtimes prophecies of a world dictator known to Bible students as the Antichrist? Joel Richardson, author of a best-selling book on Bible prophecy, says atheists will have a field day mocking Christians for the incorrect interpretations about the last days. "Nearly twenty years ago, I intently watched as a very popular Christian television prophecy teacher declared, 'the present formation of the European Union is literally the fulfillment of Bible prophecy right before our eyes!'"
Pedigree of the Coming World Leader? The Genealogy of the Antich
Waiting in the wings of the forthcoming global turmoil is the Man with a Plan--the one whom the world will welcome to resolve its many problems. The Bible gives us many provocative clues to his identity1, and from many prophetic glimpses his genealogical line may prove to be traceable. Daniel Chapters 7, 8 and 11 describe the career of Alexander the Great and his successors so vividly they constitute some of the most remarkable prophecies in the Bible. We also find that Alexander's four generals--Lysimachus, Cassander,Ptolemy, and Seleucus--divide the empire after his death just as the passages indicated.2 As Israel is sandwiched by the subsequent tensions between Ptolemy (Egypt) to the south and Seleucus (Syria) to the north, it is also amazing to note the precision with which Daniel records their respective successors in Chapter 11.3