Economy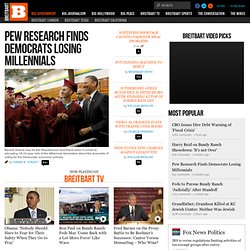 A downtrodden Governor Chris Christie apologized to the people of New Jersey today in his first press conference since the revelation of emails proving his staff's involvement in creating traffic problems on the nation's most trafficked bridge as political retribution. The emails' authors have been fired, and Christie will visit Fort Lee, NJ today. by Frances Martel 1550 Now Playing On Breitbart TV Though Pope Francis has referred to same-sex marriage as "a move of the father of lies who wishes to confuse and deceive the children of God," a nun who is president of a Seattle-area Catholic high school has said that an openly-engaged lesbian drama coach is "welcome" to continue working at the school. by Dr.
Wall Street's resurgent prosperity frustrates its claims, and Obama's
The largest banks are larger than they were when Obama took office and are nearing the level of profits they were making before the depths of the financial crisis in 2008, according to government data. Wall Street firms — independent companies and the securities-trading arms of banks — are doing even better. They earned more in the first 21/2 years of the Obama administration than they did during the eight years of the George W.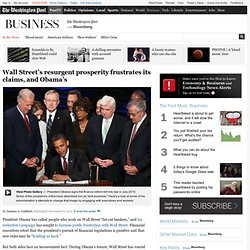 Smoking-Gun Document Ties Policy To Housing Crisis - Latest Headlines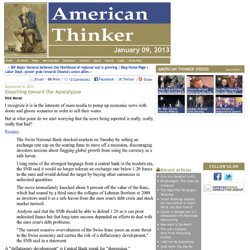 I recognize it is in the interests of mass media to pump up economic news with doom and gloom scenarios in order to sell their wares. But at what point do we start worrying that the news being reported is really, really, really that bad? Reuters: The Swiss National Bank shocked markets on Tuesday by setting an exchange rate cap on the soaring franc to stave off a recession, discouraging investors anxious about flagging global growth from using the currency as a safe haven.
Slouching toward the Apocalypse
Markets heading to new danger zone: Zoellick
What is Economic Terrorism and is Labor Radical Stephen Lerner Guilty of it? | The Blaze
Stansberry's Investment Advisory
Geithner says Congress must raise debt limit
Russia and China Ditch U.S. Dollar for Bilateral Trade | The Blaze
WRAPUP 2-China raises RRR again as inflation fight intensifies
On Thursday, a 27-year old white Houston man was indicted for a hate crime for punching an unsuspecting 79-year old African American man. The incident occurred on November 24th and resulted in a broken jaw for the elderly victim. by Robert Wilde 115 Now Playing On Breitbart TV Sen.
» Government: Destroying Your Wealth a Trillion Dollars at a Tim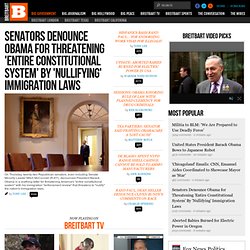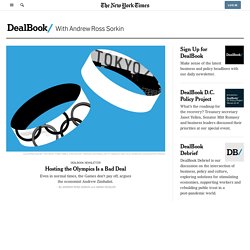 Article Tools
Regulators Push for Global Rule on Bank Capital - DealBook Blog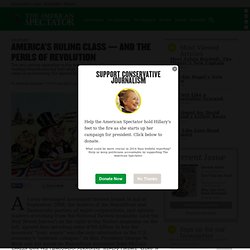 As over-leveraged investment houses began to fail in September 2008, the leaders of the Republican and Democratic parties, of major corporations, and opinion leaders stretching from the National Review magazine (and the Wall Street Journal) on the right to the Nation magazine on the left, agreed that spending some $700 billion to buy the investors' "toxic assets" was the only alternative to the U.S. economy's "systemic collapse." In this, President George W. Bush and his would-be Republican successor John McCain agreed with the Democratic candidate, Barack Obama. Many, if not most, people around them also agreed upon the eventual commitment of some 10 trillion nonexistent dollars in ways unprecedented in America. They explained neither the difference between the assets' nominal and real values, nor precisely why letting the market find the latter would collapse America.
America's Ruling Class -- And the Perils of Revolution
American Thinker: The CBO Warns the Nation; Is Anybody Listening?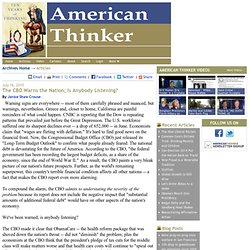 Warning signs are everywhere -- most of them carefully phrased and nuanced, but warnings, nevertheless.
If you think our economy is in bad shape now, just wait. To be sure, economic prospects for jobs and growth already are bleak, and the Obama administration has increased the national debt in less than two years from over $10.632 trillion in January 2009 to $13.561 trillion in September 2010, resulting in a record 30% increase in public debt.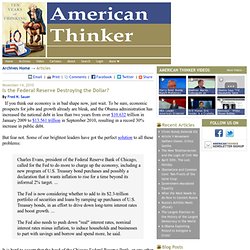 American Thinker: Is the Federal Reserve Destroying the Dollar?
Greece urged to give up euro
European Central Bank's Report Issues Warning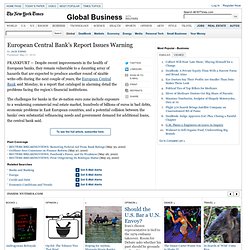 The challenges for banks in the 16-nation euro zone include exposure to a weakening commercial real estate market, hundreds of billions of euros in bad debts, economic problems in East European countries, and a potential collision between the banks' own substantial refinancing needs and government demand for additional loans, the central bank said. In its twice-yearly review of risks facing the nations that use currency, the central bank expressed particular concern about banks' need to refinance long-term debt of an estimated 800 billion euros, or $984 billion, by the end of 2012.
American Thinker: The Truth about the Unemployment Rate in Ameri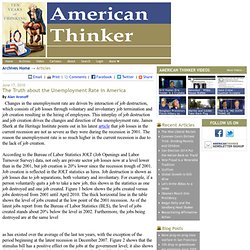 Changes in the unemployment rate are driven by interaction of job destruction, which consists of job losses through voluntary and involuntary job termination and job creation resulting in the hiring of employees.
America's public debt recently exceeded 13 trillion. This is more than 90 percent of the country's GDP.
American Thinker: America's Predicament