CreepBook
Untitled. Harry potter. The Problem With Social Networks. "Social Networks" like Facebook are booming -- especially Facebook.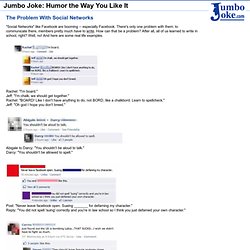 There's only one problem with them: to communicate there, members pretty much have to write. How can that be a problem? Hilariously Awkward Facebook Interactions. What happens when you insult the boss you've added as a friend and ask a friend if their child is stoned?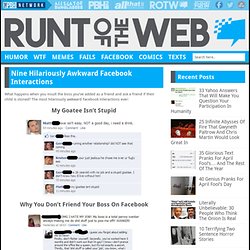 The most hilariously awkward Facebook interactions ever: My Goatee Isn't Stupid Why You Don't Friend Your Boss On Facebook Putting Your Credit Card On Facebook…. Osama Vs Obama Facepalm. Don't Rub It! College Inconvenience. Sucker. Proposed Facebook Buttons. Microsoft Office Suite Pass Key. She lost her phone. The moon. Facebook "Who is the bitch now?" Unpossible. He Could Be Your Boss One Day. Bored? Good Work Apple Store. Can't Stand Those People! Happyness. Facebook V Twitter. See the coincidence? That feeling of rejection when the automatic door doesn't open for you...
Geographical Play On Words. GO SPORTS TEAM. Yo mama. Facebook Microwave. Hmmmm. Skinny Jeans. Waterfight, kettle... WTF?
---