Social Media
Anatomy of a Social Media Policy. "I need your help!"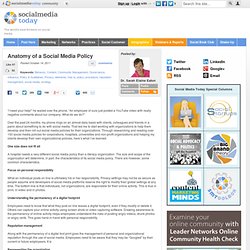 He wailed over the phone. "An employee of ours just posted a YouTube video with really negative comments about our company. What do we do?" Over the past 24 months, my phone rings on an almost daily basis with clients, colleagues and friends in a panic about something to do with social media. That led me to start working with organizations to help them develop and then roll out social media policies for their organizations. How the Australian Open Is Acing Digital Media. The 2012 Australian Open Grand Slam tennis tournament may just be the most digitally connected major sporting event of all time.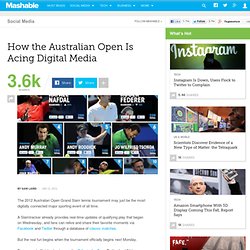 A Slamtracker already provides real-time updates of qualifying play that began on Wednesday, and fans can relive and share their favorite moments via Facebook and Twitter through a database of classic matches. But the real fun begins when the tournament officially begins next Monday. Tournament officials plan to man the @AustralianOpen Twitter feed 24 hours per day all the way through final matches on Jan. 29 for the event's global audience. Are We Too Obsessed With Facebook? [INFOGRAPHIC] Facebook profiles are like belly buttons: Everybody's got one.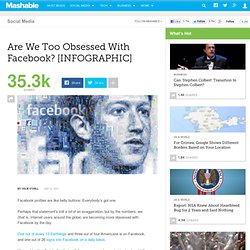 Perhaps that statement's still a bit of an exaggeration, but by the numbers, we (that is, Internet users around the globe) are becoming more obsessed with Facebook by the day. One out of every 13 Earthlings and three out of four Americans is on Facebook, and one out of 26 signs into Facebook on a daily basis. We could rattle off stats like that until the cows come home, but instead, we'd like to show you this fascinating infographic from SocialHype and OnlineSchools.org. Here, in a visual nutshell, are some highlights about Facebook usage, 2010 trends, adoption numbers and a great deal more. How Small Businesses Can Use Quora. The Q&A site Quora has been blowing up with new users for the last few weeks, initially thanks to some much-due love from Robert Scoble, and then by growing enthusiasm for the site among the tech press.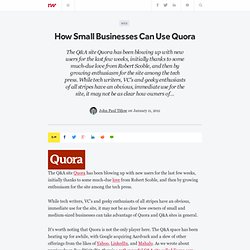 While tech writers, VC's and geeky enthusiasts of all stripes have an obvious, immediate use for the site, it may not be as clear how owners of small and medium-sized businesses can take advantage of Quora and Q&A sites in general. It's worth noting that Quora is not the only player here. The Q&A space has been heating up for awhile, with Google acquiring Aardvark and a slew of other offerings from the likes of Yahoo, LinkedIn, and Mahalo. As we wrote about previously on ReadWriteBiz, there's a rather useful Q&A site called Focus.com that is intended specifically for SMBs.
Most of what we review here applies to these and other Q&A sites as well as Quora.
Testing Content. Nobody needs to convince you that it's important to test your website's design and interaction with the people who will use it, right?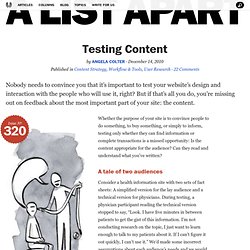 But if that's all you do, you're missing out on feedback about the most important part of your site: the content. Issue № 320 Whether the purpose of your site is to convince people to do something, to buy something, or simply to inform, testing only whether they can find information or complete transactions is a missed opportunity: Is the content appropriate for the audience? The art of data visualization. How WordPress Themes Actually Work [INFOGRAPHIC] WordPress developer and all-around web geek Joost de Valk has just graced the Internet with a highly useful infographic.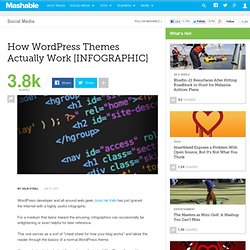 For a medium that leans toward the amusing, infographics can occasionally be enlightening or even helpful for later reference. This one serves as a sort of "cheat sheet for how your blog works" and takes the reader through the basics of a normal WordPress theme. The State and Future of the Social Media Management System Space | Share on LinkedIn. Social Media News and Web Tips – Mashable – The Social Media Guide.
NounProject. Instapaper: Save interesting web pages for reading later. 44% of Online Sharing Occurs Through Facebook [INFOGRAPHIC] Sharing widget AddThis, which is installed on more than 7 million domains and reaches more than one billion users per month, released an infographic Wednesday with some interesting statistics about about our sharing habits.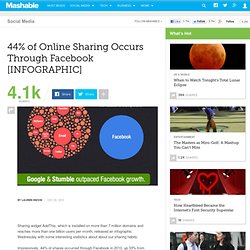 Impressively, 44% of shares occurred through Facebook in 2010, up 33% from last year. That number does not include shares done via Facebook's "Like" button, which means the actual, universal percentage of shares through Facebook is likely higher. Shares over Gmail increased by 395%, outpacing StumbleUpon, Facebook and Twitter. Shares via MySpace and Friendster dropped 20% and 31% respectively. Debates: Health 2.0. 10 Chrome Web Apps to Check Out. The Google Chrome Web Store has only been open for a few hours, and already hundreds of apps are available to use.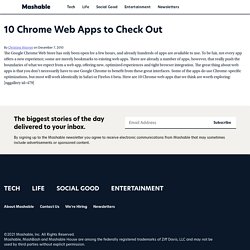 To be fair, not every app offers a new experience; some are merely bookmarks to existing web apps. There are already a number of apps, however, that really push the boundaries of what we expect from a web app, offering new, optimized experiences and tight browser integration. The great thing about web apps is that you don't necessarily have to use Google Chrome to benefit from these great interfaces. Some of the apps do use Chrome-specific optimizations, but most will work identically in Safari or Firefox 4 beta. Here are 10 Chrome web apps that we think are worth exploring: One month with Google+: why this social network has legs. If you're a stranger who follows me on Google+, you might think I rarely use the service.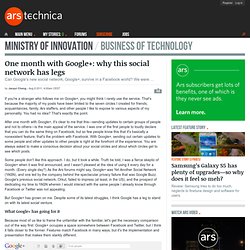 That's because the majority of my posts have been limited to the seven circles I created for friends, acquaintances, family, Ars staffers, and other people I like to expose to various aspects of my personality. You had no idea? Bloggers & authors. The Social Media Strategy Primer: Start at the Beginning. Part 1 of 3 Square one.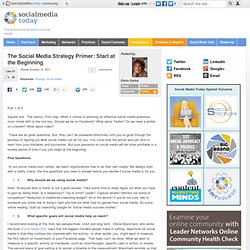 The basics. First step. When it comes to planning an effective social media presence, most minds drift to the tool box. Technology. Why Posterous Is a Smart Tool For Informal Government Blogging. For a few weeks, I've been testing a tool called Posterous, and I've come to like it a lot. You can see my account here. If you're not familiar with Posterous, it is essentially a very simple blogging platform.
It may in fact be the most simple one; yet it is very feature-laden. How Social Media Is Positively Impacting Our Culture [OPINION] This post reflects the opinions of the author and not necessarily those of Mashable as a publication. Josh Rose is the EVP, digital creative director of ad agency Deutsch LA, who -- when time permits -- moonlights as a photographer. Follow him at @joshrose. Two events today, although worlds apart, seem inextricably tied together. And the bond between them is as human as it is electronic.
---