Patties, pates, fritters
Samosa French Toasts. Launched! Vegan Chutney -Your Destination for Indian Vegan food and more. Samosa is a Fried or baked pastry with savory filling, usually potatoes and peas for the veggie version.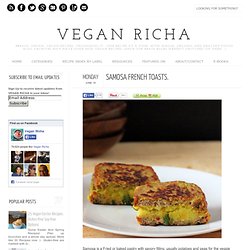 (If you havent heard of Samosa yet, you need to head out to your nearest Indian restaurant today!) The filling/stuffing can be made several different ways and is very versatile. Here is a step by step Samosa Video by Manjula's Kitchen. Most days I dont make the fried Samosa. If I do, I end up baking mine. Recipe for Butternut Squash & Chickpea Patties with Grape-Avocado Salsa. I've been in a bit of a funk lately that I really can't explain.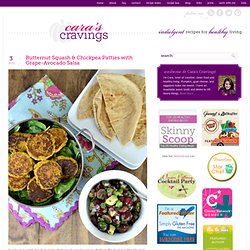 Perhaps the heat is getting to me? I spent the entire day Monday wondering what the heck to make for dinner and wondering why the heck nothing sounded good. Maybe because I just returned from a long weekend in Jacksonville putting down copious amounts of seaweed salad, brisket and brie tacos, and grilled shrimp? Recipage.
Salmon Croquettes » Pardon the Dog Hair. I realize that this recipe may not sit well with some of you, mainly because it uses canned salmon.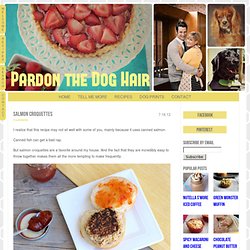 Canned fish can get a bad rap. But salmon croquettes are a favorite around my house. And the fact that they are incredibly easy to throw together makes them all the more tempting to make frequently. I like to stuff mine full with vegetables, tossing whatever needs to get used up into the food processor. Jamaican Style Curried Kale and White Bean 'Patties' Just as I was prepping to make these yummy savory pastries, we heard a little 'thud' outside.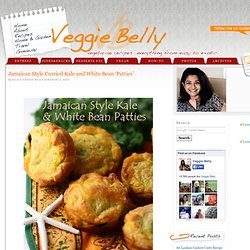 S and I went out to the deck to see what was going on. It was a little red bird lying motionless and belly up on the deck. Little red feathers were floating down. We quickly realized what had happened. The poor bird had crashed into our living room window mid-flight. Veggie Pâté Recipe. The first time I had veggie pâté, I was still at University, visiting one of my aunts.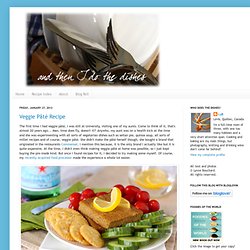 Come to think of it, that's almost 20 years ago... Man, time does fly, doesn't it?! Anywho, my aunt was on a health kick at the time and she was experimenting with all sorts of vegetarian dishes such as seitan pie, quinoa soup, all sorts of millet recipes and of course, veggie pâté. She didn't make the pâté herself though, she bought a brand that originated in the restaurants Commensal. I mention this because, it is the only brand I actually like but it is quite expensive. Millet and Sweet Potato Cakes. It seems like every Sunday evening R and I say to one another, okay.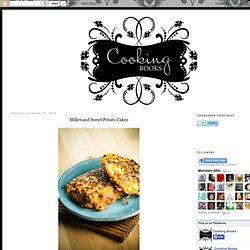 Starting Monday, we're only going to eat healthy. Actually, I don't really believe in only eating healthy, but it's good to start each week with the best intentions I suppose. Another thing is that I'm not really all that into diet books. I don't like the lists of 'good' and 'bad' foods (since when is food a moral question, anyway?) Olives for Dinner: Curried Chickpea and Onion Fritters. Indian food is my nemesis.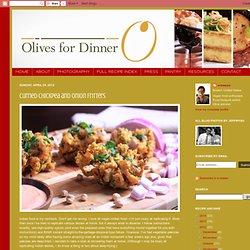 Don't get me wrong, I love all vegan Indian food—I'm just lousy at replicating it. More than once I've tried to replicate various dishes at home, but it always ends in disaster. I follow instructions exactly, use high-quality spices (and even the prepared ones that have everything mixed together for you with instructions) and BAM! Instant straight-to-the-garbage-disposal-type failure. However, I've had vegetable pakoras on my mind lately after having some amazing ones at an Indian restaurant a few weeks ago and, given that pakoras are deep-fried, I decided to take a stab at recreating them at home.
---