Rosered93
Rosalie
Www.uio.no/studier/emner/medisin/med/MEDSEM9/h05/undervisningsmateriale/Neonatal_Medicine/Transition-handouts.pdf. ScienceDirect.com - Medicine - Disorders of puberty. Balancing Hormones with Seed Cycling, Dr. Kristy, Naturopathic Doctor | Dr. Kristy, Naturopathic Doctor. Many women have trouble with their menstrual cycles.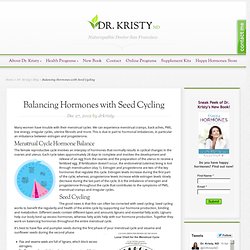 We can experience menstrual cramps, back aches, PMS, low energy, irregular cycles, uterine fibroids and more. This is due in part to hormonal imbalances, in particular an imbalance between estrogen and progesterone. Menstrual Cycle Hormone Balance The female reproductive cycle involves an interplay of hormones that normally results in cyclical changes in the ovaries and uterus. Each cycle takes approximately 28 days to complete and involves the development and release of an egg from the ovaries and the pr.
Wish list. Statistics. Food. Crafty. Fitness.
---