Visual Arts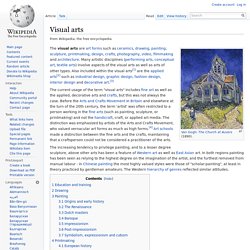 The visual arts are art forms that create works that are primarily visual in nature, such as ceramics , drawing , painting , sculpture , printmaking , design , crafts , photography , video , filmmaking and architecture . These definitions should not be taken too strictly as many artistic disciplines ( performing arts , conceptual art , textile arts ) involve aspects of the visual arts as well as arts of other types. Also included within the visual arts [ 1 ] are the applied arts [ 2 ] such as industrial design , graphic design , fashion design , interior design and decorative art . [ 3 ] The current usage of the term "visual arts" includes fine art as well as the applied, decorative arts and crafts , but this was not always the case.
Visual arts
Architecture ( Latin architectura , from the Greek ἀρχιτέκτων – arkhitekton, from ἀρχι- "chief" and τέκτων "builder, carpenter, mason") is both the process and product of planning , designing and construction . Architectural works, in the material form of buildings , are often perceived as cultural symbols and as works of art . Historical civilizations are often identified with their surviving architectural achievements. "Architecture" can mean: A general term to describe buildings and other physical structures. The art and science of designing and erecting buildings and other physical structures.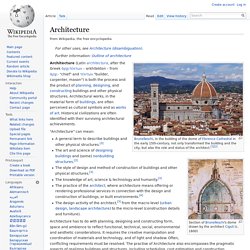 Calligraphy
Etruscan : Diomedes and Polyxena, from the Etruscan amphora of the Pontic group, ca. 540–530 BC. From Vulci . In art history , ceramics and ceramic art mean art objects such as figures, tiles , and tableware made from clay and other raw materials by the process of pottery . Some ceramic products are regarded as fine art , while others are regarded as decorative , industrial or applied art objects, or as artifacts in archaeology . They may be made by one individual or in a factory where a group of people design, make and decorate the ware.
Ceramic art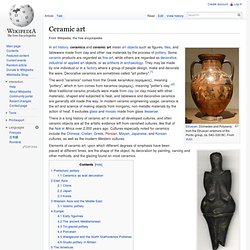 Collage
Collage (From the French : coller , to glue, French pronunciation: ​ [kɔ.laːʒ] ) is a technique of an art production, primarily used in the visual arts , where the artwork is made from an assemblage of different forms, thus creating a new whole. A collage may sometimes include newspaper clippings , ribbons , bits of colored or handmade papers, portions of other artwork or texts, photographs and other found objects , glued to a piece of paper or canvas. The origins of collage can be traced back hundreds of years, but this technique made a dramatic reappearance in the early 20th century as an art form of novelty. The term collage derives from the French "coller" meaning " glue ". [ 1 ] This term was coined by both Georges Braque and Pablo Picasso in the beginning of the 20th century when collage became a distinctive part of modern art . [ 2 ] [ edit ] History [ edit ] Early precedents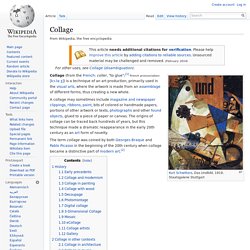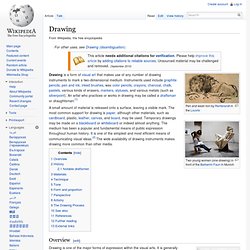 Drawing
Drawing is a form of visual art that makes use of any number of drawing instruments to mark a two-dimensional medium. Instruments used include graphite pencils , pen and ink , inked brushes , wax color pencils , crayons , charcoal , chalk , pastels , various kinds of erasers, markers , styluses , and various metals (such as silverpoint ). An artist who practices or works in drawing may be called a draftsman or draughtsman . [ 1 ] A small amount of material is released onto the two dimensional medium, leaving a visible mark.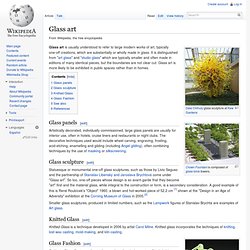 Glass art is usually understood to refer to large modern works of art, typically one-off creations, which are substantially or wholly made in glass. It is distinguished from " art glass " and " studio glass " which are typically smaller and often made in editions of many identical pieces, but the boundaries are not clear-cut. Glass art is more likely to be exhibited in public spaces rather than in homes.
Glass art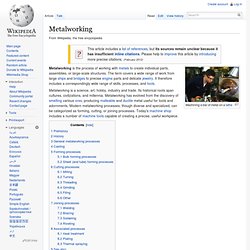 Metalworking
Machining a bar of metal on a lathe . Metalworking is the process of working with metals to create individual parts, assemblies, or large scale structures. The term covers a wide range of work from large ships and bridges to precise engine parts and delicate jewelry .
Mosaic is the art of creating images with an assemblage of small pieces of colored glass , stone, or other materials. It may be a technique of decorative art , an aspect of interior decoration , or of cultural and spiritual significance as in a cathedral . Small pieces, mostly roughly square , of stone or glass of different colors, known as tesserae , (diminutive tessellae ), are used to create a pattern or picture.
Mosaic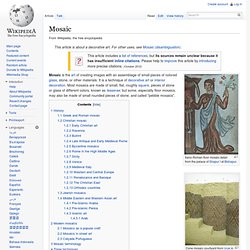 Painting is the practice of applying paint , pigment , color or other medium [ 1 ] to a surface (support base). The medium is commonly applied to the base with a brush but other implements, such as knives, sponges, and airbrushes , can be used. In art , the term painting describes both the act and the result of the action. However, painting is also used outside of art as a common trade among craftsmen and builders. Paintings may have for their support such surfaces as walls , paper , canvas , wood , glass , lacquer , clay , leaf , copper or concrete, and may incorporate multiple other materials including sand, clay, paper, gold leaf as well as objects. Painting is a mode of creative expression, and the forms are numerous.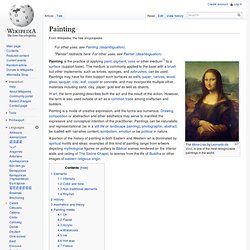 Paper art
Paper folding
Printmaking
Printmaking is the process of making artworks by printing , normally on paper . Printmaking normally covers only the process of creating prints with an element of originality, rather than just being a photographic reproduction of a painting. Except in the case of monotyping , the process is capable of producing multiples of the same piece, which is called a print . Each print produced is not considered a "copy" but rather is considered an "original". This is because typically each print varies to an extent due to variables intrinsic to the printmaking process, and also because the imagery of a print is typically not simply a reproduction of another work but rather is often a unique image designed from the start to be expressed in a particular printmaking technique.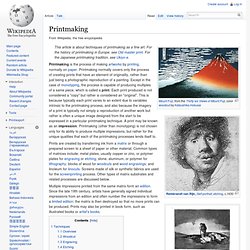 Photography is the art , science , and practice of creating durable images by recording light (photons - hence, "photo"-graphy) or other electromagnetic radiation , either chemically by means of a light-sensitive material such as photographic film , or electronically by means of an image sensor . [ 1 ] Typically, a lens is used to focus the light reflected or emitted from objects into a real image on the light-sensitive surface inside a camera during a timed exposure . The result in an electronic image sensor is an electrical charge at each pixel , which is electronically processed and stored in a digital image file for subsequent display or processing. The result in a photographic emulsion is an invisible latent image , which is later chemically developed into a visible image, either negative or positive depending on the purpose of the photographic material and the method of processing .
Learn Photography Faster! | Photography Concentrate
Netsuke of tigress with two cubs, mid-19th century Japan, ivory with shell inlay Sculpture is the branch of the visual arts that operates in three dimensions , and one of the plastic arts . Durable sculptural processes originally used carving (the removal of material) and modelling (the addition of material, as clay), in stone , metal , ceramics , wood and other materials but, since modernism , shifts in sculptural process led to an almost complete freedom of materials and process. A wide variety of materials may be worked by removal such as carving, assembled by welding or modelling, or molded , or cast .
Sculpture
textile arts in ancient Egypt Textile, painted silk , 45 × 29 1 ⁄ 2 in. (114.3 × 74.93 cm), Qing Dynasty, China, mid-18th century, LACMA textile collection Textile arts are those arts and crafts that use plant , animal , or synthetic fibers to construct practical or decorative objects. Textiles have been a fundamental part of human life since the beginning of civilization , [ 1 ] [ 2 ] and the methods and materials used to make them have expanded enormously, while the functions of textiles have remained the same. The history of textile arts is also the history of international trade .
Textile arts