Visual Arts
Visual arts. The current usage of the term "visual arts" includes fine art as well as the applied, decorative arts and crafts, but this was not always the case.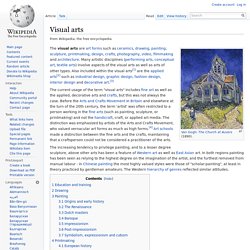 Before the Arts and Crafts Movement in Britain and elsewhere at the turn of the 20th century, the term 'artist' was often restricted to a person working in the fine arts (such as painting, sculpture, or printmaking) and not the handicraft, craft, or applied art media. The distinction was emphasized by artists of the Arts and Crafts Movement who valued vernacular art forms as much as high forms.[4] Art schools made a distinction between the fine arts and the crafts maintaining that a craftsperson could not be considered a practitioner of the arts. The increasing tendency to privilege painting, and to a lesser degree sculpture, above other arts has been a feature of Western art as well as East Asian art.
Architecture. Brunelleschi, in the building of the dome of Florence Cathedral in the early 15th-century, not only transformed the building and the city, but also the role and status of the architect.[1][2] Architecture (Latin architectura, after the Greek ἀρχιτέκτων – arkhitekton – from ἀρχι- "chief" and τέκτων "builder, carpenter, mason") is both the process and the product of planning, designing, and constructing buildings and other physical structures.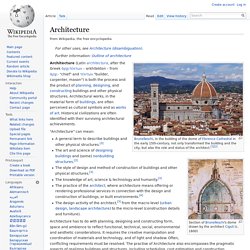 Architectural works, in the material form of buildings, are often perceived as cultural symbols and as works of art. Historical civilizations are often identified with their surviving architectural achievements. "Architecture" can mean: Calligraphy. Ceramic art. Etruscan: Diomedes and Polyxena, from the Etruscan amphora of the Pontic group, ca. 540–530 BC.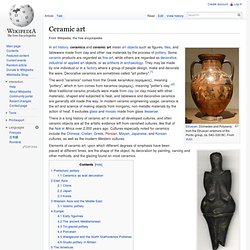 From Vulci. The word "ceramics" comes from the Greek keramikos (κεραμικος), meaning "pottery", which in turn comes from keramos (κεραμος), meaning "potter's clay. "[2] Most traditional ceramic products were made from clay (or clay mixed with other materials), shaped and subjected to heat, and tableware and decorative ceramics are generally still made this way. Collage. The term collage derives from the French "coller".[1] This term was coined by both Georges Braque and Pablo Picasso in the beginning of the 20th century when collage became a distinctive part of modern art.[2] History[edit] Early precedents[edit] Techniques of collage were first used at the time of the invention of paper in China, around 200 BC.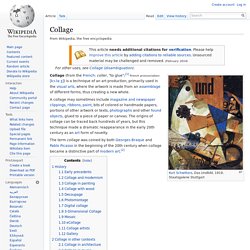 The use of collage, however, wasn't used by many people until the 10th century in Japan, when calligraphers began to apply glued paper, using texts on surfaces, when writing their poems.[3] The technique of collage appeared in medieval Europe during the 13th century. Gold leaf panels started to be applied in Gothic cathedrals around the 15th and 16th centuries. Drawing. Two young women (one drawing) in front of the Barberini Faun in Munich Drawing is a form of visual art that makes use of any number of drawing instruments to mark a two-dimensional medium.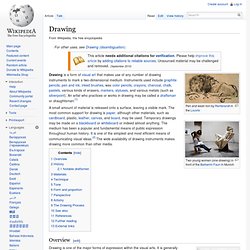 Instruments used include graphite pencils, pen and ink, inked brushes, wax color pencils, crayons, charcoal, chalk, pastels, various kinds of erasers, markers, styluses, and various metals (such as silverpoint). An artist who practices or works in drawing may be called a draftsman or draughtsman.[1] Glass art. Glass art is usually understood to refer to large modern works of art, typically one-off creations, which are substantially or wholly made in glass.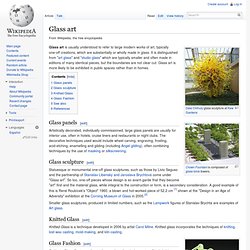 It is distinguished from "art glass" and "studio glass" which are typically smaller and often made in editions of many identical pieces, but the boundaries are not clear-cut. Glass art is more likely to be exhibited in public spaces rather than in homes. Metalworking. Machining a bar of metal on a lathe Metalworking is the process of working with metals to create individual parts, assemblies, or large-scale structures.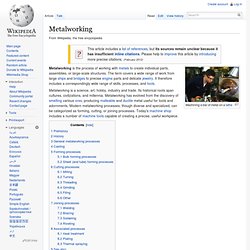 The term covers a wide range of work from large ships and bridges to precise engine parts and delicate jewelry. Mosaic. Mosaic is the art of creating images with an assemblage of small pieces of colored glass, stone, or other materials.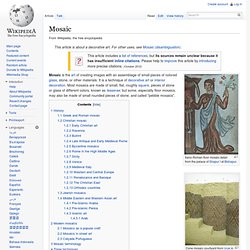 It is a technique of decorative art or interior decoration. Most mosaics are made of small, flat, roughly square, pieces of stone or glass of different colors, known as tesserae; but some, especially floor mosaics, may also be made of small rounded pieces of stone, and called "pebble mosaics". Painting. Painting is the practice of applying paint, pigment, color or other medium[1] to a surface (support base).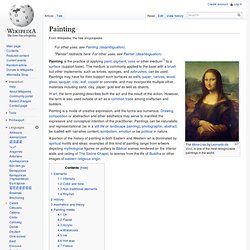 The medium is commonly applied to the base with a brush but other implements, such as knives, sponges, and airbrushes, can be used. Paintings may have for their support such surfaces as walls, paper, canvas, wood, glass, lacquer, clay, leaf, copper or concrete, and may incorporate multiple other materials including sand, clay, paper, gold leaf as well as objects. In art, the term painting describes both the act and the result of the action. However, the term is also used outside of art as a common trade among craftsmen and builders. Paper art. Paper folding. Printmaking. Printmaking is the process of making artworks by printing, normally on paper.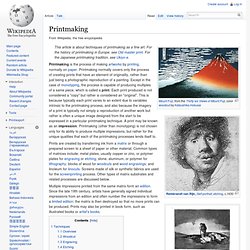 Printmaking normally covers only the process of creating prints that have an element of originality, rather than just being a photographic reproduction of a painting. Except in the case of monotyping, the process is capable of producing multiples of a same piece, which is called a print. Each print produced is not considered a "copy" but rather is considered an "original". This is because typically each print varies to an extent due to variables intrinsic to the printmaking process, and also because the imagery of a print is typically not simply a reproduction of another work but rather is often a unique image designed from the start to be expressed in a particular printmaking technique.
Photography. Lens and mounting of a large-format camera Photography has many uses for business, science, manufacturing (e.g. photolithography), art, recreational purposes, and mass communication. Etymology The word "photography" was created from the Greek roots φωτός (phōtos), genitive of φῶς (phōs), "light"[2] and γραφή (graphé) "representation by means of lines" or "drawing",[3] together meaning "drawing with light".[4] Several people may have coined the same new term from these roots independently. Learn Photography Faster! | Photography Concentrate.
Digital Photography Tips: Digital Photography School. Tutorials. Sculpture. Netsuke of tigress with two cubs, mid-19th century Japan, ivory with shell inlay Sculpture in stone survives far better than works of art in perishable materials, and often represents the majority of the surviving works (other than pottery) from ancient cultures, though conversely traditions of sculpture in wood may have vanished almost entirely. However, most ancient sculpture was brightly painted, and this has been lost.[2] Sculpture has been central in religious devotion in many cultures, and until recent centuries large sculptures, too expensive for private individuals to create, were usually an expression of religion or politics. Textile arts. Textile arts in ancient Egypt Persian Silk Brocade. Persian Textile (The Golden Yarns of Zari - Brocade).
Silk Brocade with Golden Thread (Golabetoon). Pattern and Design: Paisley Left and Right (Bote Jeghe), With Main Repeating Motif (Persian Paisley).
---