Gardening
Repurpose Wooden Pallets Into a Potting Bench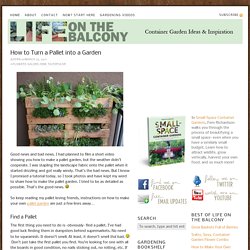 Good news and bad news. I had planned to film a short video showing you how to make a pallet garden, but the weather didn't cooperate. I was stapling the landscape fabric onto the pallet when it started drizzling and got really windy. That's the bad news.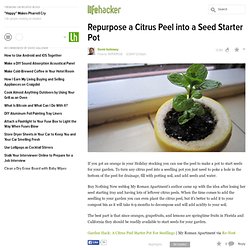 Gardening News, Videos, Reviews and Gossip - Lifehacker
If you get an orange in your Holiday stocking you can use the peel to make a pot to start seeds for your garden. To turn any citrus peel into a seedling pot you just need to poke a hole in the bottom of the peel for drainage, fill with potting soil, and add seeds and water. Buy Nothing New weblog My Roman Apartment's author came up with the idea after losing her seed starting tray and having lots of leftover citrus peels. When the time comes to add the seedling to your garden you can even plant the citrus peel, but it's better to add it to your compost bin as it will take 6-9 months to decompose and will add acidity to your soil.
Gardening News, Videos, Reviews and Gossip - Lifehacker
Turn Old Tea Tins into Space-Saving Planters
How To Make Natural Garden Pesticides
Previous image Next image Garden pests are one of the few things I find frustrating about gardening. Whether it's the snails taking over your lettuce or the aphids sucking on your roses — it's definitely annoying — but not a reason to fret and reach for harmful, toxic sprays.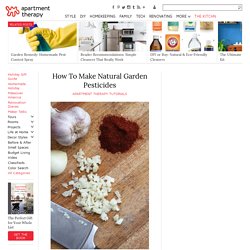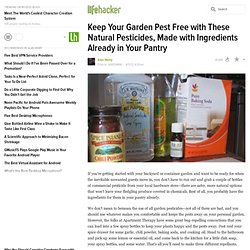 Keep Your Garden Pest Free with These Natural Pesticides, Made with Ingredients Already in Your Pantry
Some things you may have readily available... * Aluminum foil - lay it under your plants to control aphids. They like to hang out under the leaves, so by causing a reflection of light from below, they get confused and tend to go somewhere else. * Use items directly from the garden. I usually have some very hot peppers growing and almost nothing touches them. Pluck some peppers and mix in a blender or foot processor with water then add a few drops of soap.