Ressources
7 CMS pour créer son propre réseau social - ressources
Idéal pour créer une communauté et regrouper des passionnés à venir partager autour de votre centre d'intérêt ou de vos services, un réseau social peut etre un réel atout dans la communication d'une marque ou d'un produit si celui-ci est bien fait. Oxwall Pour vous aider à utiliser Oxwall Un article complet pour bien débuter avec Oxwall Elgg Jcow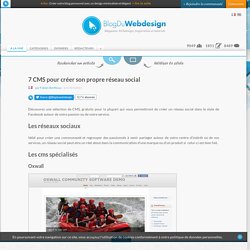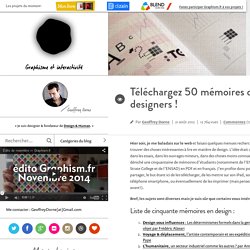 Téléchargez 50 mémoires de designers !
Hier soir, je me baladais sur le web et faisais quelques menues recherches pour trouver des choses intéressantes à lire en matière de design. L'idée était de piocher dans les essais, dans les ouvrages mineurs, dans des choses moins connues. J'ai ainsi déniché une cinquantaine de mémoires d'étudiants (notamment de l'ENSCI, de Strate College et de l'ENSAD) en PDF et en français. J'en profite donc pour vous les partager, le but étant ici de les télécharger, de les mettre sur son iPad, son Kindle, son téléphone smartphone, ou éventuellement de les imprimer (mais pensez au papier avant!). Bref, les sujets sont diverses mais je suis sûr que certains vous intéresseront Télécharger en une seule fois les 50 mémoires & études en PDF
Designers' List - Great resources and websites for designers.
33 Ready to Print Premium Magazine Templates
10 Packs de Brushes Photoshop de qualité - ressource-photoshop
Subtle Patterns | Free textures for your next web project
475 Free Movies Online: Great Classics, Indies, Noir, Westerns & More
Recadrer automatiquement des photos avec Cropp
Voici un petit outil tout simple et sans prétention, mais qui remplit très bien sa fonction : recadrer automatiquement vos photos sans utiliser de logiciel ! Cropp est en effet très facile à utiliser. Il suffit de sélectionner la photo que vous souhaitez retailler, puis les différents formats souhaités. L'intérêt de Cropp est que vous pouvez obtenir jusqu'à quatre formats de sortie différents d'un seul coup, et les télécharger ensuite dans un seul fichier ZIP.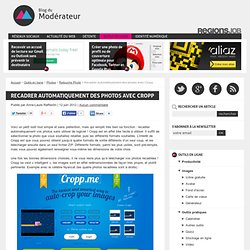 15 Free And Useful Online QR Code Generators
s Free Texture Library
Buy Every Texture Buy every texture on this website for only $33.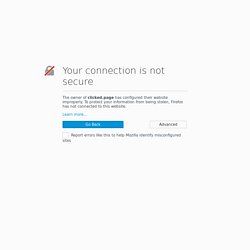 Le site des anciennes revues informatiques - www.abandonware-magazines.org
25 (More) Free and useful Photoshop Actions
Free Web Badges & Elements
This week's freebie is a collection of beautiful vector web badges. Included are 15 handcrafted badges, emblems, tags and similar items for use in your designs. These are perfect for demonstrating awards, sales, and special events.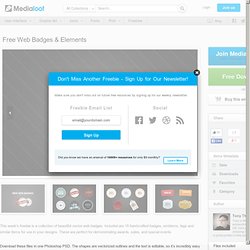 20 ressources gratuites PSD (GUI)
Pour un des premiers articles sur les ressources gratuites du net, je vous ai fais un petit "best of" des meilleurs éléments "GUI" (= graphical user interface) qui sont utilisables sur des projets personnels / commerciaux au format PSD et gratuit. Vous trouverez les liens pour télécharger les fichiers PSD et les crédits sous chaque image. Enjoy ! "Tron Glow kit" by thiyagu. Télécharger en cliquant ici. "Butterscotch PSD GUI" by Made by Thomas.