Comics
» La période électorale pour les nuls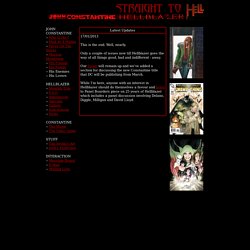 Straight To Hell : A Hellblazer Site
This is the end. Well, nearly. Only a couple of issues now till Hellblazer goes the way of all things good, bad and indifferent - away. Our forum will remain up and we've added a section for discussing the new Constantine title that DC will be publishing from March.
Welcome to the Grand Comics Database! We're a nonprofit, Internet-based organization of international volunteers dedicated to building a database covering all printed comics throughout the world, and we're glad you're here! Give our search form a try, or take a look at the menu to the left to see how you can help us improve the site. New search ! We have added a new search capability. It searches the different data objects at the same time and allows easier combination of different search terms.
by Cady Caswell Special to the Astro City Rocket ASTRO CITY — Spokesmen for the Extranormal Activies Garrison for Law Enforcement announced today that a series of raids had been made on training camps belonging to the subversive would-be global-dominating organization known as PYRAMID.
The Astro City Rocket | Home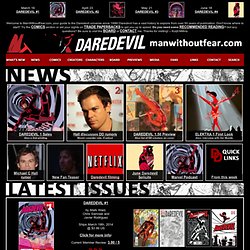 Daredevil: The Man Without Fear @ WWW.MANWITHOUTFEAR.COM
Daredevil (and other related characters appearing) and the distinctive likenesses are Trademarks of Marvel Characters, Inc. and are used WITHOUT permission.Copyright © 2014 Marvel Characters, Inc. All Rights Reserved. Visit Marvel.com. ManWithoutFear.com. Created January 16, 1996.
Comics VF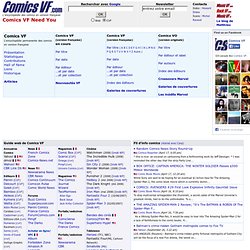 Bandes des cinés Comics2Film Superhero Hype! Télévision Heroes (TF1, NBC) Fantastic Four(M6, Cartoon Network) Smallville (M6) La Ligue des Justiciers (France 3) Teen Titans (France 3) The Batman (France 3) Divers BédéthèqueDaredevil VFLa PlaieLes Super-Héros DC en FranceUltimate MarvelBuzz : Il y a 20 ans..., les InéditsComics sur Wikipedia : Article, Catégorie