Tikz
If we're being honest (and trust us, we're being honest), Pranav Mistry's Sixth Sense contraption has always baffled us . It's kind of like Sony's Rolly . It looks cool, it sounds rad, but we're fairly certain only 2.49 people actually know and fully comprehend how it works. That said, we're more than jazzed about the possibility of having wearable gesture interfaces gracing every human we come into contact with, and rather than attempting to make his invention "comply with some kind of corporate policy," he's purportedly aiming to release the source code into the wild in order to let "people make their own systems." Nice guy, huh?
Sixth Sense creator to release code, wearable gesture interface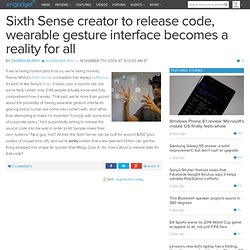 TikZ and PGF examples
CMP File I/O Amanuensis
Please email your feedback for publication , letters to the editor, errors, omissions, typos, formatting errors, ambiguities, unclear wording, broken/redirected link reports, suggestions to improve this page or comments to Roedy Green : . If you want your message, your name or email kept confidential, not considered for public posting, please explicitly specify that. Unless you state otherwise, I will treat your message as a letter to the editor that I may or may not publish in the feedback section. After that, it will be too late to retract it. If you disagree with something I said, especially when sending an ad-hominem attack, a rant composed mainly of obscenities or a death threat, please quote the offending passage and cite the web page where you found it, tell me why you think it is wrong, and, if possible, provide some supporting evidence.