R S/w
Hello, This is in response to a post from a couple of years back regarding Kaiser-Meyer-Olkin Measures of Sampling Adequacy. (http://tolstoy.newcastle.edu.au/R/help/05/12/17233.html) As it turns out, last year Trujillo-Ortiz et al. at the Universidad Autonoma de Baja California wrote and posted a script for MATLAB that does the job.
Re: KMO sampling adequacy and SPSS -- partial solution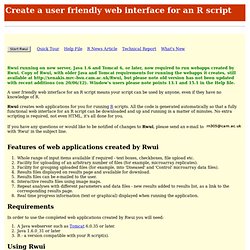 Create a user friendly web interface for an R script
Rwui running on new server, Java 1.6 and Tomcat 6, or later, now required to run webapps created by Rwui. Copy of Rwui, with older Java and Tomcat requirements for running the webapps it creates, still available at http://xenakis.mrc-bsu.cam.ac.uk/Rwui, but please note old version has not been updated with recent additions (on 20/06/12). Window's users please note points 13.1 and 15.1 in the Help file. A user friendly web interface for an R script means your script can be used by anyone, even if they have no knowledge of R. Rwui creates web applications for you for running R scripts. All the code is generated automatically so that a fully functional web interface for an R script can be downloaded and up and running in a matter of minutes.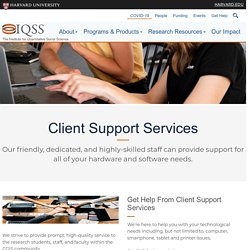 Listing and Installing Packages in R
This section describes how to view the list of installed packages in R, and how to install a new package for you to use locally. A package is a collection or group of objects that R can use. A package might contain functions, data frames, or other objects, such as dynamically loaded libraries (DLLs) of compiled code. Often, the terms package and library are used interchangeably. You can list the libraries or packages that are available in your R environment. Listing Libraries
R is an elegant and comprehensive statistical and graphical programming language. Unfortunately, it can also have a steep learning curve. I created this website for both current R users, and experienced users of other statistical packages (e.g., SAS, SPSS, Stata) who would like to transition to R.