Nice Read
Protecting Your Online Reputation: 4 Things You Need to Know. You don't have to be running for president to care about your online reputation.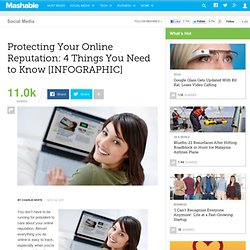 Almost everything you do online is easy to track, especially when you're using social media sites. This infographic shows you how to manage your "e-reputation," perhaps saving you some embarrassment, or even your career. Gathered by digital marketing firm KBSD, it's a treasure trove of tips, techniques and information about what companies and individuals are looking for inside your personal profiles and social information, and what you can do to show off your best side to those who might want to find out unflattering things about you. Quick & Easy Study Charts. The Death Of The Blog Post - Smashing Magazine. Obviously this style isn't suitable for every website.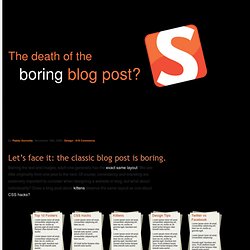 It wouldn't be practical for blogs that pump out three or four articles a day, but certain types of websites could benefit from it especially. Portfolios We have a habit of following trends very easily, especially in our portfolios. Life Hacks: Institute of Hacking. Psychology...
Entrepreneurship. Philosphical. Psychology. Sports. Technical.
---