iPhone & Android jailbreak
Jailbreak 5.0.1 Untethered On iPhone 4S and iPad 2 Using Absinthe [Video Tutorial. Ladies and gentlemen, boys and girls, stop what you are doing, go grab your A5 Apple device and prepare to receive the gift of liberation.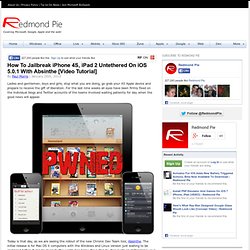 For the last nine weeks all eyes have been firmly fixed on the individual blogs and Twitter accounts of the teams involved waiting patiently for day when the good news will appear. Today is that day, as we are seeing the rollout of the new Chronic Dev Team tool, Absinthe. The initial release is for Mac OS X computers with the Windows and Linux version just waiting to be packaged before it can be given to the world.
See below for a step by step guide on jailbreaking your iPhone 4S or iPad 2 using Absinthe. Absinthe is a GUI tool which is intended to provide an untethered jailbreak for the following devices and firmwares: Releases. Firmwares iPhone Descarga de redsn0w sn0wbreeze tinyumbrella ifunbox. AppBrain - las mejores aplicaciones y juegos del Android Market. Everything Android • Index page. CyanogenMod 7 for the HTC Wildfire :: V7.1.0.1 (10 Oct 2011)
[ROM] CyanogenMod 7 for the HTC Wildfire :: V7.1.0.1 (10 Oct 2011) CyanogenMod is a free, community built, aftermarket firmware distribution of Android 2.3 (Gingerbread), which is designed to increase performance and reliability over stock Android for your device.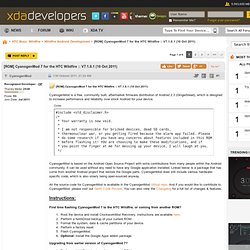 Code: #include <std_disclaimer.h> /* * Your warranty is now void. * * I am not responsible for bricked devices, dead SD cards, * thermonuclear war, or you getting fired because the alarm app failed. Please * do some research if you have any concerns about features included in this ROM * before flashing it! Download. Aplicaciones de Cydia [Archivo] - ClubiFone.com.
How to Access iPhone 3GS via SSH on Windows Mac | iPhone 3G S. [AYUDA] Actualizar y hacer Jailbreak de 4.1 a la 4.3.3 - ClubiFone.com. Buenas Noches: Llevo bastante tiempo con la versión 4.1 "jailbreada y liberada" y me he decidido actualizarlo de nuevo a la nueva versión 4.3.3 que según tengo entendido tiene algunas mejoras.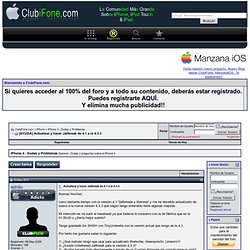 Mi intención es no subir el baseband ya que todavía lo conservo con la de fábrica que es la 01.59.00 o ¿Sería mejor subirlo? Tengo guardado los SHSH con TinyUmbrella con la versión actual que tengo de la 4.1. Descarga iOS 4.3.3. Guía Jailbreak untethered iOS 4.3.3 disponible vía Redsn0w. El exploit de Stefan Esser -i0n1c- sigue siendo funcional en la nueva versión de iOS.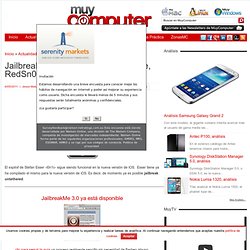 Esser tiene ya ha compilado el mismo para la nueva versión de iOS. Es decir, de momento ya es posible jailbreak untethered. . __________________________________________________________________________________ Applanet the installous of Android. Quote: why tho??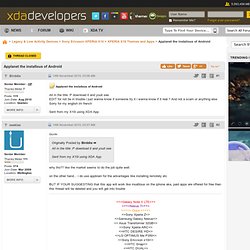 Like the market seems to do the job quite well. on the other hand... i do use appbrain for the advantages like installing remotely etc BUT IF YOUR SUGGESTING that this app will work like insatllous on the iphone aka, paid apps are offered for free then this thread will be deleted and you will get into trouble. Jailbreak 4.3.3 Untethered iPhone 4, 3GS, iPod Touch 4G, 3G, iPad Redsn0w 0.9.6rc15 [Tutorial] - Jailbreak 4.3.1 / 4.3.2 / 4.3.3 /iOS 5 Untethered - iPad 2 Jailbreak.
This is very fast.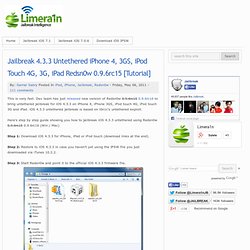 Dev team has just released new version of Redsn0w 0.9.6rc150.9.6rc16 to bring untethered jailbreak for iOS 4.3.3 on iPhone 4, iPhone 3GS, iPod touch 4G, iPod touch 3G and iPad. iOS 4.3.3 untethered jailbreak is based on i0n1c's untethered exploit. Here's step by step guide showing you how to jailbreak iOS 4.3.3 untethered using Redsn0w 0.9.6rc15 0.9.6rc16 (Win / Mac) Step 1: Download iOS 4.3.3 for iPhone, iPad or iPod touch (download links at the end). Is there an 'installous' for Android phones? - InsiderForums. Applanet!(installous for android) - InsiderForums. Jailbreak & Unlock iPhone 4 en México | MoviIiPhone. How To Install / Uninstall .deb File on iPhone | iPhone. Advertisements You can install apps via .deb files if you jailbreaked and SSH your iPhone.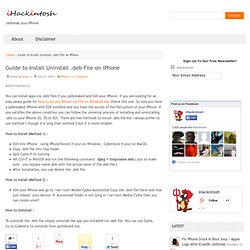 If you are looking for an easy peasy guide for How to Access iPhone via SSH on Windows Mac Check this one. So now you have a jailbreaked iPhone with SSH installed and you have the access of the file system of your iPhone. If you satisfies the above condition you can follow the universal process of installing and uninstalling .deb to your iPhone 2G, 3G or 3GS.
---