iPhone
L'application #plancast #iPhone est bien pratique pour d
Augmented Reality adds information and meaning to real objects viewed through live camera of the iPhone. The fascinating apps which incorporate augmented reality enable you to identify environment friendly locations for a better living. 10 such apps are showcased here: WorkSnug – This app for iPhone helps you to find the best place in the city for you to sit and work; the place may be a small coffee shop or library with good internet connection and decent working area.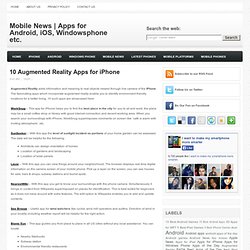 10 Augmented Reality Apps for iPhone
Les femmes ne représenteraient que 5% des utilisateurs d'iPhone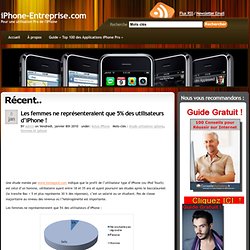 Une étude menée par www.kenagard.com indique que le profil de l'utilisateur type d'iPhone (ou iPod Touch) est celui d'un homme, célibataire ayant entre 18 et 35 ans et ayant poursuivi ses études après le baccalauréat (la tranche Bac + 5 et plus représente 30 % des réponses), c'est un salarié ou un étudiant.
iPhone 4G: proof - Engadget Galleries
Here's Apple's Next iPhone
Will iPhone 4's Audio and Video Chat Finally Break the Voice Cal
Ajout le 22 mai 2010 : L'application MondeCafés est à présent disponible gratuitement dans l'AppStore > Lien vers l'application dans l'AppStore.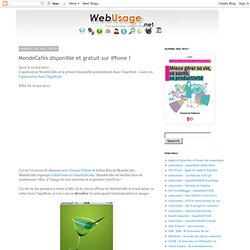 Exclusif : le fonctionnement de MondeCafés sur iPhone dévoilé !
[French follows] Yesterday, on May 18 2010, Techcrunch gave us "Say Hello To Twitter For iPhone, Aka Tweetie 3.0" but you can't download it just yet. Today on May 19 2010, I have downloaded it, and I can give you the screenshots (see bellow).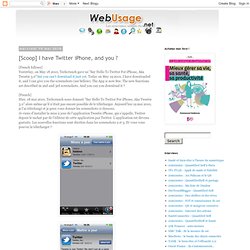 [Scoop] I have Twitter iPhone, and you ?
cafesfrance.com