iPhone
lundi 6 janvier 2014 La Mother et les motion cookies ! Publié par Emmanuel Gadenne Aucun commentaire: Envoyer par e-mailBlogThis!
L'application #plancast #iPhone est bien pratique pour d
Augmented Reality adds information and meaning to real objects viewed through live camera of the iPhone. The fascinating apps which incorporate augmented reality enable you to identify environment friendly locations for a better living. 10 such apps are showcased here: WorkSnug – This app for iPhone helps you to find the best place in the city for you to sit and work; the place may be a small coffee shop or library with good internet connection and decent working area.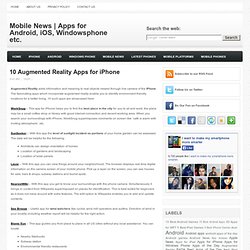 10 Augmented Reality Apps for iPhone
Les femmes ne représenteraient que 5% des utilisateurs d'iPhone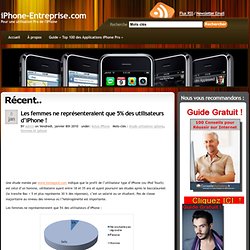 Une étude menée par www.kenagard.com indique que le profil de l'utilisateur type d'iPhone (ou iPod Touch) est celui d'un homme, célibataire ayant entre 18 et 35 ans et ayant poursuivi ses études après le baccalauréat (la tranche Bac + 5 et plus représente 30 % des réponses), c'est un salarié ou un étudiant. Pas de classe majoritaire au niveau des revenus où l'hétérogénéité est importante. Les femmes ne représenteraient que 5% des utilisateurs d'iPhone : Les jeux ayant le plus de succès sont les jeux de réflexion et d'arcade… soit exactement les opposés… il doit donc exister 2 profils différents de joueurs :
iPhone 4G: proof - Engadget Galleries
Here's what Apple's next iPhone looks like. Or, at least, here's a prototype that someone lost in a bar in Silicon Valley. (Pretty nice!) Engadget posted fuzzy pictures of the phone over the weekend, but rival gadget blog Gizmodo has just one-upped them.
Here's Apple's Next iPhone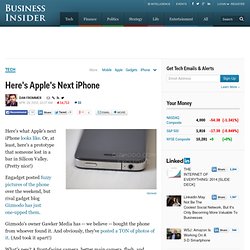 Actually, Jobs didn't provide all the details. Just the surface. For example, did you know that 900Mhz UMTS is now supported? The real secrets are available at: [www.edepot.com]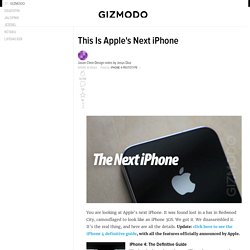 Will iPhone 4's Audio and Video Chat Finally Break the Voice Cal
Ajout le 22 mai 2010 : L'application MondeCafés est à présent disponible gratuitement dans l'AppStore > Lien vers l'application dans l'AppStore. Billet du 16 mai 2010 : J'ai eu l'occasion de déjeuner avec Graeme Villeret et Julien Blin de MondeCafés. MondeCafés regroupe CafesFrance et CanadianCafes. MondeCafés est décliné dans de nombreuses villes, à l'image du tout nouveau et so greeeen CafesParis !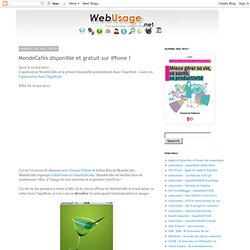 Exclusif : le fonctionnement de MondeCafés sur iPhone dévoilé !
[French follows] Yesterday, on May 18 2010, Techcrunch gave us "Say Hello To Twitter For iPhone, Aka Tweetie 3.0" but you can't download it just yet. Today on May 19 2010, I have downloaded it, and I can give you the screenshots (see bellow). The App is now free. The new functions are described in 2nd and 3rd screenshots. And you can you download it ? [French]Hier, 18 mai 2010, Techcrunch nous donnait "Say Hello To Twitter For iPhone, Aka Tweetie 3.0" alors même qu'il n'était pas encore possible de le télécharger.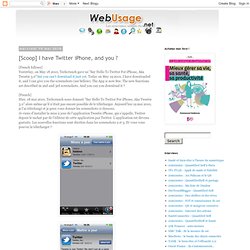 [Scoop] I have Twitter iPhone, and you ?
cafesfrance.com
Juste quelques étapes à suivre et vous pourrez télécharger de la musique, des séries TV et films HD, et plus encore, à partir de l'iTunes Store. Il vous faut iTunes pour télécharger les articles demandés. Configuration Windows requise PC avec un processeur Intel ou AMD à 1 GHz et 512 Mo de RAM Windows XP Service Pack 2 (ou version ultérieure), éditions 32 bits de Windows Vista, Windows 7 ou Windows 8 Les éditions 64 bits de Windows Vista, Windows 7 ou Windows 8 nécessitent le programme d'installation iTunes 64 bits 400 Mo d'espace disque disponible Connexion Internet haut débit requise pour utiliser l'iTunes Store Pour connaître les précautions prises par Apple pour protéger vos données personnelles, veuillez consulter l'Engagement de confidentialité Apple vis-à-vis de sa clientèle. La licence iTunes permet exclusivement la reproduction d'œuvres non protégées par copyright ou pour lesquelles l'utilisateur possède un droit de reproduction.