Interesting
Simple animation to explain complex principles - Electronics. 1, aircraft radial engine 2, oval Regulation 3, sewing machines 4, Malta Cross movement - second hand movement used to control the clock 5, auto change file mechanism.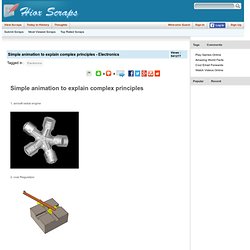 Biggest Scientific Breakthroughs of 2011. This $25 computer (yes, computer!) also runs Quake 3. Remember that $25 computer about the size of a flash drive game developer David Braben unveiled in May?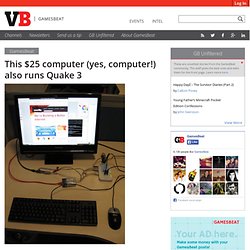 According to a video posted on Saturday, it can run games in high-definition, too. The Raspberry Pi computer is a single-board computer that's capable of rendering video games like Quake 3 at a 1920-by-1080 pixel monitor resolution. The game cruises along at around 20 frames per second with the lighting and geometrical details cranked up to maximum quality. It's also running at a 1920-by-1080 pixel resolution, which brought the frame rate down slightly, Raspberry Pi foundation's Eben Upton said. Considering the limited horsepower on the Pi, it's still pretty impressive. Breakthrough Material Purifies Water While Generating Electricity.
At last, little chunks of aluminum everywhere can be something greater then a soda can or a baseball bat.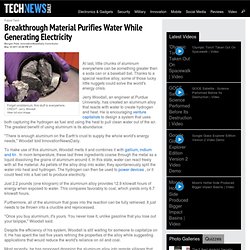 Thanks to a special reactive alloy, some of those lucky little nuggets could solve the world's energy crisis. Jerry Woodall, an engineer at Purdue University, has created an aluminum alloy that reacts with water to create hydrogen and heat. He is encouraging venture capitalists to design a system that uses both capturing the hydrogen as fuel and using the heat to pull clean water out of the air. The greatest benefit of using aluminum is its abundance.
"There is enough aluminum on the Earth's crust to supply the whole world's energy needs," Woodall told InnovationNewsDaily.
---