Good to read
Cost of air conditioning for U.S. troops in MidEast more than NASA budget. The United States spends $20.2 billion annually on air conditioning for troops stationed in Iraq and Afghanistan — more than NASA's entire budget, NPR reported.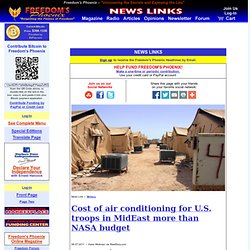 In fact, the same amount of money that keeps soldiers cool is the amount the G-8 has committed to helping the fledgling democracies in Tunisia and Egypt. The necessary cooling costs so much because of the remote locations and danger involved in delivery equipment and fuel, Steven Anderson, a retired logistician who served under Gen. Cool design ideas #2. Rescued Humpback Whale Thanks Divers That Cut Her Free. "The love for all living creatures is the most noble attribute of man." — Charles Darwin (OCEANS/WHALE RESCUE) PACIFIC OCEAN — When a humpback whale became entangled in hundreds of yards of nets and fishing line, she was lucky to be spotted by a caring fisherman.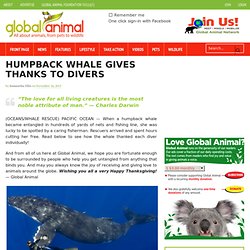 Rescuers arrived and spent hours cutting her free. Read below to see how the whale thanked each diver individually! And from all of us here at Global Animal, we hope you are fortunate enough to be surrounded by people who help you get untangled from anything that binds you. And may you always know the joy of receiving and giving love to animals around the globe. Shock 4 all: A few Miracles of the 21st century. Water is dangerous. This was found on the newsgroup: rec.humor.funny A student at Eagle Rock Junior High won first prize at the Greater Idaho Falls Science Fair, April 26.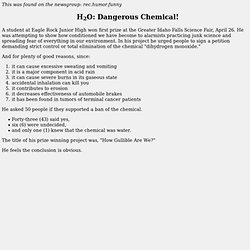 He was attempting to show how conditioned we have become to alarmists practicing junk science and spreading fear of everything in our environment. In his project he urged people to sign a petition demanding strict control or total elimination of the chemical "dihydrogen monoxide. " Simple Ideas That Are Borderline Genius (35 Pics)
Jet Off To Australia's Pretty Beach House | 20 awesomely untranslatable words from around the world. Code of Conduct. 261881_235459326482689_149296375098985_872327_237922_n.jpg (JPEG Image, 500x345 pixels) Airline Story.
Life Hacks. Cancer - StumbleUpon. People sayings.
---