Testing
Tools. Collection of various tools for webmasters. Web developer's toolkit. Screenfly by QuirkTools — Test Your Website at Different Screen Resolutions. Usaura - Quick usability tests. SEO Page Explorer | Detailed on-page SEO. Free Webmaster Tools. Speed Is A Killer - Why Decreasing Page Load Time Can Drastically Increase Conversions. Can the speed of your website really have that much of an effect on your sales?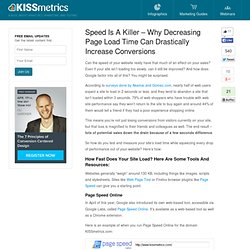 Even if your site isn't loading too slowly, can it still be improved? And how does Google factor into all of this? You might be surprised. According to surveys done by Akamai and Gomez.com, nearly half of web users expect a site to load in 2 seconds or less, and they tend to abandon a site that isn't loaded within 3 seconds. 79% of web shoppers who have trouble with web site performance say they won't return to the site to buy again and around 44% of them would tell a friend if they had a poor experience shopping online. This means you're not just losing conversions from visitors currently on your site, but that loss is magnified to their friends and colleagues as well. WebPagetest. Tools. Nobody Likes a Slow Website We built this Website Speed Test to help you analyze the load speed of your websites and learn how to make them faster.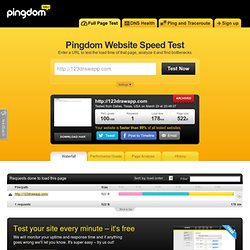 It lets you identify what about a web page is fast, slow, too big, what best practices you're not following, and so on. Website Optimizer. Page Speed Home. Backlink Checker.
---