Master Thesis
Sukiennice Museum : Stories Behind the Paintings
Museums Pursue Engagement With Social Media
Every night she bicycles home to the Red Hook section of Brooklyn to be with Teddy, her beloved pit bull, and monitors the institution's presence on , Flickr, , Four Square and , where it has nearly 183,000 followers. Some of her projects — letting Web followers watch a 28-foot tepee being built in the museum or inviting them to participate in a coming exhibition by taking a visual art quiz — have led to a flood of invitations to lecture at conferences around the globe. A decade ago, museum Web sites were little more than online advertisements, displaying an institution's hours, directions, admission prices and exhibitions. But evolving technology has created new opportunities, and people like Ms. Bernstein are becoming critical players in helping museums exploit them.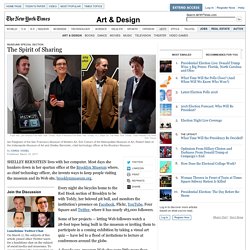 MYFORUM
Jane McGonigal to Find the Future at the New York Public Library
Gaming guru and Reality is Broken author Jane McGonigal is organizing a game to commemorate the New York Public Library's centennial celebration. On May 20th, 500 gamers will spend the night in the main branch of the library on 42nd Street to complete 100 "quests" designed by a McGonigal-directed team. It's an innovative use of gaming, and it's also a novel way for a library--that most staid of places, in the public eye--to reinvent itself. The library lists as one of its motivations to "show off NYPL as a space for active creation and social collaboration."
GoldRun
Navnegeneratoren er meget simpel. Tryk på knappen "Dreng" for at få et drengenavn frem, tryk på knappen "Pige" for at få et pigenavn frem. Generatoren husker hvilke navne den allerede har vist indtil du trykker på knappen "Genstart generatoren" eller lukker din internetbrowser.
Navnegeneratoren giver gode forslag til navne til dit barn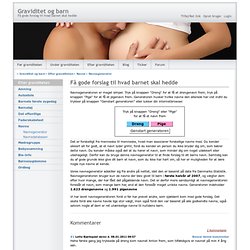 Sukiennice Museum: Stories Behind the Paintings